Dr Payet launches climate change study module
08-June-2009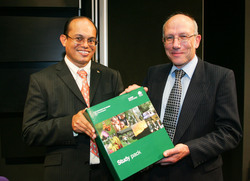 The lecture was attended by more than 100 guests from a wide range of backgrounds.
Dr Payet, lead author of the Intergovernmental Panel on Climate Change – which jointly shared the Nobel Peace Prize in 2007 with former US Vice-President Al Gore – was speaking at the London School of Hygiene and Tropical Medicine on May 28.
He was presented with a study pack by Professor Andrew Dorward, academic director and professor of development economics at the Centre for Development, Environment and Policy, which is part of the School of Oriental and African Studies at the University of London.
Dr Payet, also a University of London External System alumnus, welcomed the introduction of the module, which will be made available from February 2010. It is aimed at a wide range of students, including professionals who want to understand and enhance their knowledge and skills in this area.
"Education is a way to raise awareness on environmental issues. The challenge of climate change requires a broadening of skills, which such a module will provide to those aspiring to make a difference to the world," he said.
Professor Dorward said: "I am delighted that someone of Dr Payet's standing should choose to endorse our latest study module on climate change and development – this is a subject that clearly touches all our lives.
"The distance learning postgraduate module available will be of interest to people from all walks of life, including professionals who wish to extend or update their knowledge in this field."