STA signs agreement with catering specialist
13-June-2009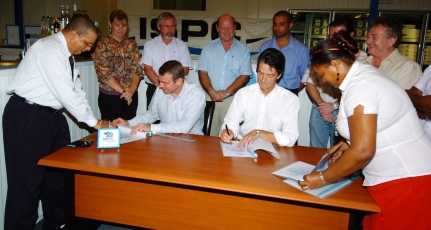 Alfred Fourcroy, owner of the International Sales and Promotion Company, and STA chairman Roman Kopacek signed a memorandum of understanding at the ISPC's head office on Bois de Rose Avenue.
Also present were Seychelles Tourism Board chairman Maurice Loustau-Lalanne and STA principal Flavien Joubert.
The agreement will last for two years, after which it will be up for possible renewal. The STA is to make its food production facilities available for ISPC presentations and demonstrations, as well as for the supermarket's launch of new products.
The academy will also send students to the company in groups of 10 for training. And the ISPC will help the STA with certain goods it needs, as well as training academy students in wine knowledge.
After the signing, the guests were treated to delicacies prepared by ISPC staff.