12 new soldiers join SPDF
16-June-2009
The passing-out ceremony, which took place at the Seychelles Defence Academy on South East Island, was attended by Chief of Staff Colonel Clifford Roseline, commanding officer of the academy Major Simon Dine, unit commanders, SPDF officers, instructors and relatives of the new soldiers.
The group – initially 32 – started their training in February and covered various fields, notably tactics, field craft, weapons training, map reading, drill, communication and first aid.
Addressing the new soldiers, Colonel Roseline reminded them that their basic training was only the beginning of a noble career full of adventures and opportunities to develop their personal abilities and reach their academic goals.
He said the SPDF welcomes them with open arms and their service will be of great significance in safeguarding the country, especially in the work against pirate activities in our territorial waters.
Colonel Roseline encouraged the new recruits to adopt a team-spirit approach and to take their work seriously, especially in difficult situations. This, he said, will bring a positive contribution to the force.
A high level of discipline should be maintained at all times, and the new soldiers should not let themselves get carried away by bad influences such as drugs and alcohol, added the Chief of Staff.
"The SPDF will take severe disciplinary action against all those who get involved in any unpleasant activities and tarnish the image of the force," he said.
He ended by urging the new soldiers to respect their oath, to abide by the military regulations and also to adopt a positive attitude, as the SPDF motto says – service before self.
During Friday's ceremony, those who excelled during the training were rewarded, and Achille Uzice received the prize for best overall recruit. Marlon Charlie was awarded the best indoor recruit award while the best outdoor recruit trophy went to Samuel Pierre.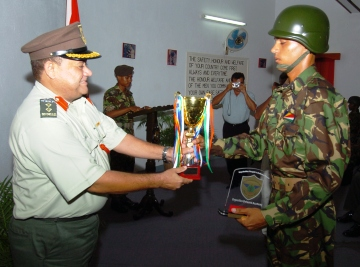 The gathering ended with a few words of reflection and blessing by the SPDF's chaplain, Deacon Louis Agathine.