Marine protected areas make economic sense
17-June-2009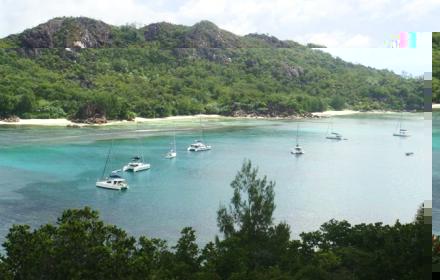 Protecting the oceans through these areas can provide higher and more sustained income through tourism and controlled fisheries than continued exploitation, according to a new compilation of case studies commissioned by the International Union for Conservation of Nature (IUCN) about the economic benefits of MPAs, launched on World Biodiversity Day –May 22 – at the 2nd International Marine Protected Area Congress in Washington DC.
"These case studies show that closing selected marine areas to fishing or other extractive uses makes economic sense," said Carl Gustaf Lundin, head of the IUCN's global marine programme.
"Marine protected areas, if well managed, help fish stocks replenish, which then increase yields in neighbouring areas and improve the economic situation of the local communities."
For Small Island Developing States like Seychelles, the coastal zone ultimately includes the whole island and the ocean is the heart and soul of the country's economy.
MPAs are, therefore, crucial in finding the balance between our economic health and maintaining the physical status of the resources on which almost the entire population depend for their livelihood in terms of food and income.
MPAs attract tourism, which is the other important source of income through marine conservation. The marine national parks in Seychelles are celebrating 30 years of conservation this year.
Looking back at the successes, it is clear that a large number of visitors are entertained annually through these national parks, which attract tourists through the snorkelling and diving they offer.
Curieuse island, for example, has attracted more visitors in the last two years, than any of the other marine national parks of Seychelles. On Curieuse alone, a total of 30,155 visitors were recorded last year, and for all of Seychelles' marine parks put together, a total number of 45,424 was recorded in 2007, increasing to 47,493 in 2008.
Local cases such as Curieuse and Cousin also provide terrestrial economic assets for the National Parks Authority and their private or institutional management. These include the giant tortoise, coco de mer palms (of which 458 were sold in 2008), the mangrove boardwalk on Curieuse, thousands of seabirds as well as nature trails on both islands, which help to bring in more visitors than the other marine parks that provide only marine-related activities.
These help to increase the income of the parks, and part of these benefits eventually filters into Seychelles' economy to the advantage of local people.
As was rightly said by Dr Rolph Payet, special adviser to the President and chairman of the Sea Level Rise Foundation, at the World Ocean Congress on May 16: "1.5 billion people depend on fish worldwide…killing the environment is as serious as killing your neighbour."
Here in Seychelles, the marine parks also provide mooring facilities for those who want to enjoy the pristine beauty of the parks for longer, and this has an economic value too for the parks authority and for Seychelles in general, bringing in about 2,131 visitors in 2008.
The total from January 2007 to December 2008 in terms of selling marine park tickets to tourists was almost R108 million.
"On World Biodiversity Day, the IUCN gave the proof that protecting the oceans is not only good for biodiversity, but it also makes money," said Julia Marton-Lefèvre, its director-general.
"Examples from around the world prove that there are no excuses anymore for exploiting the oceans until nothing is left – this will ultimately destroy the fishing industry altogether, let alone the diversity of life on our planet."
Less than 1% of the world's oceans are currently protected, compared to about 12% of the land surface. But governments have agreed under the UN Convention on Biological Diversity to increase protection of the oceans to 10% by 2010.
As Seychelles looks to further develop its coastal areas, fisheries industries and products, it is recommended that we prioritise our need for better and integrated management of our coastal and marine ecosystems, reducing pressures on those resources.
A number of integrated coastal zone management projects are being put in place through various regional multi-partnership initiatives within the Indian Ocean. One such initiative is Mangroves for the Future (MFF), launched in 2005, focusing on countries most affected by the December 2004 tsunami.
It seeks to promote investment in coastal ecosystems and is founded on a vision for a healthier, more prosperous and secure future for our coastal communities.
Some local NGO projects have already been approved under the MFF small grants facility, and money will soon be disbursed to them so they can kick start their action.
. The IUCN is the world's oldest and largest global environmental network, with a democratic membership of more than 1,000 government and NGO member organisations, helping the world find pragmatic solutions to our most pressing environment and development challenges by supporting scientific research, managing field projects all over the world and bringing members, the UN, international conventions and companies together to develop policy, laws and best practices. The Seychelles government is a member of the IUCN.