President Michel's National Day address:-Our courage and trust are taking us on new course
19-June-2009
He said we are moving in the right direction, giving examples of such results as the fall in interest rates on loans to nearly the same levels as before the reforms.
He also said the value of the rupee has stabilised against major foreign currencies and continues to appreciate, with the problem of availability of foreign exchange now a thing of the past.
However, said Mr Michel, we continue to face certain difficulties. He knew it was going to be difficult for all of us, which is why he asked us to put our trust in him despite the size of the challenges we faced, for he was sure we were bound to succeed as a people.
"I had this conviction because I believe in the Seychellois people. I had this conviction because I believe in the unity of the people of Seychelles. With your courage, we have been able to achieve a lot in a short space of time. I thank you for your trust," he said.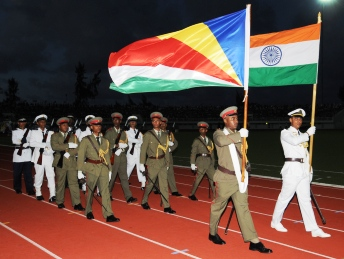 The President said that given there is an overall improvement already, if we maintain our reform momentum we will succeed and we can count on him to put the people first.
He expressed the wish to see a people who are more hardworking, more responsible and more realistic in a country that is ready to face the currents of globalisation.
Regarding public service the President said we need to continually address shortcomings and provide encouragement where necessary but there has been much improvement in certain cases and many public servants are continually giving their best.
They are working hard and efficiently to steer our country in the new course we have chosen, he said.
Congratulating them, Mr Michel said we have much to learn from them but added there are still many complaints about service delivery in government.
He said the subject has been recurring whenever he meets people in the districts.
President Michel said a complaint has to be considered as a way of improving the service we provide and not as a personal criticism. He said clients can be difficult at times but public servants have to equip themselves to face such situations.
On politics, President Michel said the conduct of politics in our country is a subject which he could not avoid and we can all attest to how gutter politics is dividing us.
He said in a democracy it is right that people should express their views and we should have an opinion and take part in the political discourse but we have to act responsibly and with respect for state institutions. We need to conduct politics in a different way in our country, he said, adding nowadays everybody wants to do politics in Seychelles even though politics is an art, a skill and a vocation.
He said those who dedicate themselves to politics should be prepared to set aside their personal agenda and put their people and their country before self.
Mr Michel said people are tired of politics that is conducted by the roadside and hinders the progress of our country where it gets into everything.
He said Seychellois are tired of certain fishermen who mix politics with the sale of fish in the market, taxi drivers who constantly run down their country with tourists and local clients and irresponsible journalists who write whatever they please, knowing full well that what they write is not true.
He talked of certain merchants who continually hike the prices of their goods, claiming they are from previous stock and blame their exorbitant prices on politics.
President Michel also said the country needs to reinforce its law and order.
He also announced he will soon be introducing a new prison administration system, which will be headed by a commissioner of prisons, as well as a Young Leaders programme for the police and defence forces that will give young officers the chance to gain further specialised training and recognition within the forces.
He also said a new Special Forces unit will act as an intervention force in combating piracy, illegal fishing and other threats.
National Day festivities took place all over the country yesterday as the people celebrated the adoption of multiparty democracy when the Constitution was approved by 73% of voters in a referendum on June 18, 1993.
Besides the President's address, another key feature was a parade by the Seychelles Police and Seychelles People's Defence Forces (SPDF).
There were eight Seychelles and three guest platoons; one from the Indian navy, the French navy and one from the President's Award Scheme.
The Indian and French armed forces form part of the military partnership for an integrated approach to combating piracy in the region.


Winners of the song contest on the national theme Koste Seselwa were also on hand to perform their songs during yesterday's ceremony which also saw performances by a combined choir.