Basketball-Referee Uzice takes time out after water bottle throwing incident
20-June-2009
Such an attitude cannot be tolerated and will only leave a scar on our sports.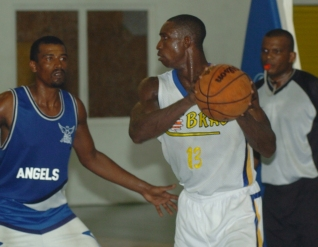 Although players are abused, most of the time the insults and physical abuse are aimed at officials.
At the Palais des Sports at the end of last Saturday's men's division one basketball match between PLS Hawks and defending champions Baya, who used a 16-4 run in the final four minutes to emerge 84-80 winners, umpire Alain Uzice was hit on the head by a water bottle coming from the stands.
He immediately threw in the towel, saying he can take no more of the undisciplined conduct of some spectators.
"I've not made a cross yet on refereeing," Uzice told Sports Nation.
"I have to evaluate the pros and cons. I'll watch from the sidelines and see how things go on in the second half of the championship. Maybe I'll come back next year, but I'm definitely not refereeing again this year," he added.
A former player with Cascade, Anse Etoile and the ex-Victoria Suns teams until he hung up his boots in 1999, Uzice noted that the behaviour of fans at the end of last Saturday's match was a disgrace for Seychelles' basketball.
"It's a disgrace for basketball when fans behave in such an unruly manner. Referee James Joubert and I were happy with the way we handled the match, which was probably the best in terms of quality play this year," he said.
"To suffer such abuse after a job well done and an exciting encounter, makes you think twice before stepping on to the court to take charge of matches," added Uzice.
Uzice, who took up refereeing in 1989 when still a player, officiated at the Indian Ocean Club Championships in Mauritius last year.
Rowdy sports fans must be booted out of stadiums and gymnasiums by security officials, who should be more alert.
Racist, drunken and anti-social crowd tactics should also not be tolerated. Should such unruly actions be repeated, the offenders should be fined.
G. G.