Football: Airtel Cup final-St Michel retain title
22-June-2009
It was always going to be a crowd-puller as hundreds descended on Stad Linite including Community Development, Youth, Sports and Culture Minister Vincent Meriton, but the match was spoiled by poor officiating.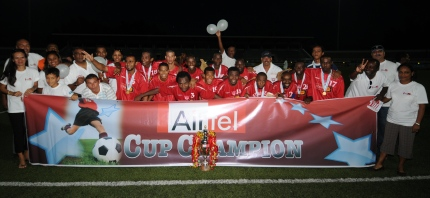 It was just baffling that the Seychelles Football Federation appointed a novice official in the shape of Bernard Camille to officiate a match of such magnitude and he was just not up to the task.
Early goal
The match started in good spirit as both sets of players threw Airtel T-shirts in the crowd and St Michel made two changes, dropping both Nelson Laurence and Philip Zialor to the bench for missing training.
Bernard St Anse, making a rare start, set up Don Anacoura in the first minute as he released the latter, who centred to Francis Nourrice whose glancing header flew agonisingly wide.
Two minutes later, St Louis Suns had a good penalty turned down as Henny Dufresne brought down Trevor Poiret from a short corner involving Ugandan Jimmy Kidega, who had a poor game.
In the sixth minute, St Michel goalie Nelson Sopha produced a double save to deny Yannick Charlette and Wilnes Brutus from a through ball by Jonathan Bibi which Nigel Freminot failed to clear.
St Michel broke the deadlock in the ninth minute from Don Anacoura after a nasty foul by Ted Radegonde on Malagasy Pascal and he was not booked.
Anacoura curled the free-kick, which was not cleared, in at the near post and goalkeeper Eugene Valentin was caught ball watching for a 1-0 lead.
Ten minutes later, St Louis Suns had to re-adjust as Denis Barbé had to be replaced by Andy Mougal with a knee injury.
Midway in this half, assistant referee Darrel Monthly had to alert the referee as Sopha held back substitute Mougal, who had chased a long ball and he was booked for his endeavours.
In the 31st minute, Malagasy Nestor Benahovy tested Valentin with a dipping free-kick which he did well to save.
St Michel defender Nigel Freminot was lucky to escape scot free after two nasty fouls on Wilnes Brutus in the 39th and 40th minutes and his former Red Star teammate Ted Radegonde was lucky not to be booked for a rash tackle on Anacoura in a half which Alex Nibourette was only booked for a two-footed lunge when he could easily have received his marching orders with a better referee.
St Louis Suns draw level
St Louis Suns drew level in the 44th minute as Malagasy Hasinarivola Rijaniaina played a through ball to Brutus who held it before flicking to Mougal, who raced through to fire past Sopha for a 1-1 score.
In the dying minutes, Valentin almost gave away another goal as he flapped at Anacoura's free-kick.
St Michel brought Philip Zialor for St Ange in the second half though his entry was held back by an unacceptable delay by the fourth official.
On the hour mark, Anacoura pounced on an error by Bibi to shoot at Valentin who turned the ball into corner.
Three minutes later, Benahovy picked out Zialor with a long ball. Zialor beat Jude Nancy to rifle at Valentin, who did well to save as Francis Nourrice was lurking to pounce on the rebound.
In the 69th minute, Brutus threaded a pass to Trevor Poiret who was pushed in the back by Nibourette but once again referee Camille was not up to the task as he failed to penalise the defender in the penalty box.
In the 82nd minute, St Louis Suns went close as Kidega released Rijaniaina from a half cleared corner but he shot in the side-netting with three players in the box waiting for his cross.
The winner
St Michel scored deep in injury time as Radegonde fouled Pascal needlessly. Anacoura floated the ball in the box and Pascal rose to head home to make it 2-1 as Valentin came out but failed to clear the danger.
The cups and medals were presented by Minister Meriton, Airtel chief executive RVS Bullar and SFF chairman Suketu Patel.
St Michel manager Brian Uranie said the match was a tough battle, but his team deserved victory after controlling the second half. He added that it was a good preparation for the resumption of the league.
As for St Louis Suns assistant coach Derreck Barbé, he said poor officiating affected the result of the match.
R. J-L.