33rd annual Inter-School Athletics Championship-Athletes put final touches to preparation
25-June-2009
Organised by the Physical Education/Extra Curricular Activities Unit in the Ministry of Education, the competition will take place at Stad Linite, starting at 10am.
Schoolchildren from schools around Mahe, Praslin, La Digue and Silhouette will be in action in the track and field events, and the top three finishers in each event will get gold, silver and bronze medals. They will also earn points for their schools, and at the end of the day the points will be added up for a grand total.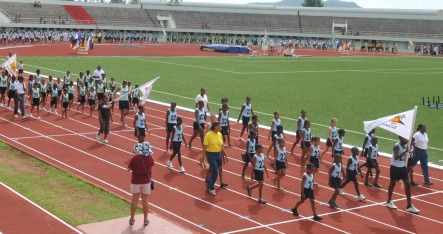 Primary school children will compete in the under-8, 10 and 12 categories, secondary schools will compete in the under-14, 16 and 18 divisions, while post-secondary students will compete in the open category.
The track and field events the male and female athletes will compete in are 60m, 80m, 100m, 200m, 400m, 800m, 1,500m, 4x60m relay, 5x80m relay, 4x100m relay, medley relay, high jump, long jump and shot put.
The medley relay, with athletes running 400m, 300m, 200m and 100m, replaced the 4x400m relay in 2005.
The shot put event will be held on the small playing field at the Roche Caïman sports complex to avoid damaging the Astroturf pitch.
As has been the case over the past three years, the sack race and egg and spoon race will only feature as demonstration events and will take place just before the medley relays.
Members of the public and schoolchildren who will be coming to Stad Linite to watch the championship should be there at least 30 minutes before the starting time. Spectators are also being asked to respect the space allocated to them.
To qualify for Monday's final, the athletes took part in heats organised at Stad Linite (for primary and secondary schools) and at the La Digue sports complex (for Praslin and La Digue primary and secondary schools).
One of the main activities to celebrate the country's Independence Day anniversary on June 29, the first Inter-School National Athletics Championship was organised in July 1976.
G. G.