Hotel school graduate wins award in London
27-June-2009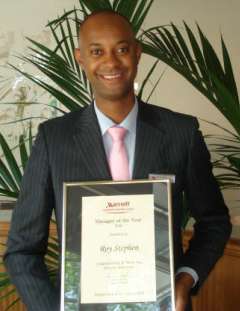 Roy Stephen, who is now a manager with the luxury Marriott Maida Vale hotel, completed a two-year course in restaurant and bar work, and a course in reception operations and tourism, at the former École Hotelière, Bel Ombre, 14 years ago.

After his graduation in Seychelles, he worked in hotels locally and then in top hotels in Florida, USA, before moving to London.

He has recently visited the Seychelles Tourism Academy to meet his former director, Flavien Joubert, who is now the academy's principal. He also met former lecturers who taught him during his time at the École Hotelière.

Mr Stephen said he would like to return to Seychelles in the future as a lecturer at the STA.