33rd annual Inter-School Athletics Championships-21 best times and distances
01-July-2009
Running for the Seychelles Tourism Academy (STA), Nourrice stopped the clock at 4:33.88 to slice 13.02 seconds off Gervais Saminadin's 1,500m old best of 4 minutes 46.90 seconds (4:46.90) set last year.
Bistoé of the Grand Anse Praslin primary school got two records – one on the track and another on the field. She hit the tape of the girls under-10 80m race in 12.48 seconds to erase Rinnie Mondon's time of 12.65 seconds, set a year ago, from the record books. In the long jump, she leapt to a winning distance of 3.86m to add 9cm to fellow Praslinois Vicky Durand's old record of 3.77m – one of the oldest in the championships' history – set during the heats on June 4, 1999.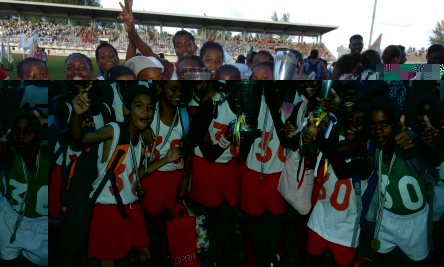 Of the 21 records, 16 came on the track and the remaining five on the field, while one was equalised as Carlos Marianne matched Leeroy Henriette's 200m performance of 22.94 seconds in the boys' U18 category.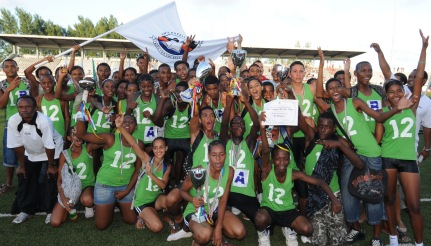 Other than Nourrice's long-distance best time, all other records on the track came in the sprints and relays.
The other record breakers were: Alisa William (Plaisance primary, girls' U12 long jump with 4.43m), Richard Servina (Anse Royale primary, boys' U12 high jump with 1.43m), Colyn Francourt (Anse Aux Pins primary, boys' U12 200m in 28.80 seconds), Aaron Tirant (Beau Vallon secondary, boys' U14 400m in 59.03 seconds), Joanne Low-Toy (Mont Fleuri secondary, girls' U18 100m in 12.80 seconds), Diane Nioze (Plaisance secondary, girls U14 200m in 28.23 seconds), Alice Khan (National Institute of Education, girl's open 200m in 26.49 seconds), Stephanie Augustin (NIE, girls open 400m in 1:03.41), Yannick Ernesta (Seychelles Institute of Technology, boys' open 100m in 11.27 seconds), Leeroy Henriette (SIT, boys open 200m in 22.70 seconds), SIT (medley relay boys' open 2:06.21), SIT (boys' open 4x100m relay in 44.59 seconds), NIE (girls' open medley relay in 2:25.06), Janet Boniface (NIE, girls' open long jump with 5.83m), Lissa Labiche (Mont Fleuri secondary, girls' U18 high jump with 1.65m), Anse Royale secondary (girls' U14 4x100m relay in 53.68 seconds), Anse Royale primary (boys' U12 4x100m relay in 55.50 seconds), and Anse Aux Pins primary (boys' U10 5x80m relay in 1:00.66).
We publish some of the photos taken by photographers Louis Toussaint and Patrick Joubert.
G. G.
……..
What some record breakers said:
Ezra Bistoé: "I'm happy I got two records. I trained hard for the championships."
Alisa William: "It wasn't easy at all. I gave it my best shot."
Richard Servina: "I wasn't expecting to win the high jump event. I'm glad I won and broke the record."
Janet Boniface: "This is a personal best distance (5.83m). My previous was 5.74m and I'm glad I'm getting back to my best after being hampered by an injury."
Shirley Annette (a member of the Anse Royale secondary girls' U14 4x100m relay team): "Have we broken the record we set during the heats? That's cool. We were a bit afraid before the start of the race, but things fell in place automatically."
The Anse Aux Pins primary boys' U10 5x80m relay team
The Anse Royale secondary girls' U14 4x100m relay team
Jean-Yves Kilindo (a member of the Anse Royale primary boys' U12 4x100m relay team): "We trained hard. The race was interesting, but we did not expect to beat the record."