Key partners learn new system to manage chemicals
23-August-2011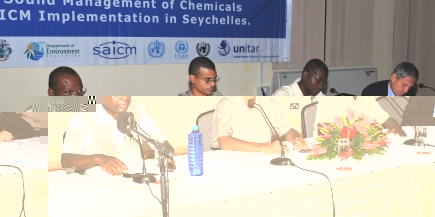 The opening session of the workshop yesterday


They are doing so in a two-day workshop which started yesterday at the Seychelles Trading Company's conference room.
It aims to introduce stakeholders, including representatives of customs, health, agriculture and emergency responders, to this Globally Harmonised System (GHS) for the classification and labeling of chemicals.
This system is a worldwide initiative to promote standard criteria for classifying chemicals according to their health, physical and environmental hazards.
The seminar has been organised by the environment department in partnership with the United Nations Institute for Training and Research (UNITAR).
A GHS expert, Johannes van der Kolk, is leading this meeting along with Lemmy Payet, the national coordinator for Strategic Approach to International Chemical Management (SAICM) and project coordinator Flavien Joubert.
Also present at the opening of the workshop yesterday was environment principal secretary Didier Dogley, who said the seminar will help to improve local knowledge and strengthen "our ability to improve harmonisation of the use and the management of chemicals locally for the betterment of the health of our people and our environment".
He said the Seychelles' government considers the goals and objectives of the world summit in Johannesburg in 2002, targeting the minimisation of the adverse effect of chemicals on the global environment and human health by the year 2020, to be vital.
He added that Seychelles pledged its commitment to carry out the SAICM initiative last year with UNITAR.
"And in December 2010 we completed our very first draft of a comprehensive national chemicals profile, which allowed us to draw a portrait of our national status with regard to chemicals management and usage."
Mr Dogley said the workshop is "testimony to our commitment towards the adoption of a new and improved system for the classification and labeling of chemicals at all stages in their life cycle, from importation to disposal".
Mr Payet said this new system will ensure that products with chemical contents are well labeled.
He said chemicals are not properly used and handled properly here.
"Many domestic products which include cosmetics have properties that may cause certain reactions which can be hazardous to consumers."
He said with GHS, which is a method that uses pictograms and other quick messages to tell the consumers or stakeholders more about the chemicals and its safety procedures, will be very helpful.
"Though it is still a new concept in Seychelles, after this workshop key partners will be able to understand it and hence help us to develop an integrated national programme for the sound management of chemical and SAICM in Seychelles," Mr Payet said.
During the meeting presentations were given on existing systems and legislation relevant to the GHS, explanations on how this system is being carried out in other countries and regions.