Tourism operators discuss ways to counter shark attacks
23-August-2011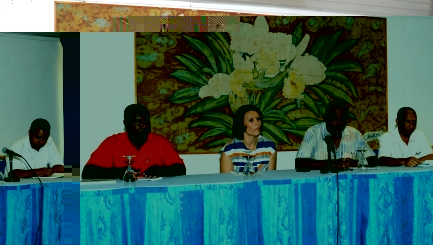 Yesterday's meeting in progress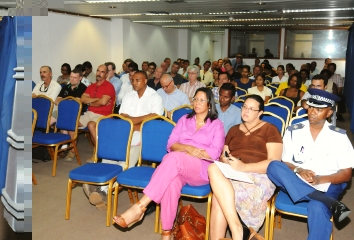 Also present at the meeting, held at the International Conference Centre, were the deputy chief executive of the Seychelles Tourism Board (STB), Elsia Grandcourt, executive members of the Seychelles Hospitality and Tourism Association (SHTA), the principal secretary for Environment, Didier Dogley, Captain Valmont of the Seychelles Maritime Safety Administration (SMSA) and representatives of the police.
Mr Dogley said that two shark experts from South Africa are presently on Praslin for a week.
Both men are used to catching big sharks and are expected to recommend the best way to catch the killer shark. They will recommend the best gear to be used in such circumstances.
They are also expected to produce a comprehensive guide to ensure safety of swimmers in Seychelles, and if necessary, put out nets as a precautionary measure. They are also expected to recommend response to future shark attacks - otherwise the ways to save lives.
Mr Dogley said there are suggestions that the predator could be a Tiger, Bull or Great White shark, though nothing has been confirmed at this stage.
Mr Dogley also said that a ban on swimming at some beaches, including Anse Lazio, Anse Georgette, Petit Anse Kerlan and the Curieuse marine park remains in force. Elsewhere on Praslin as well as on Mahe and other islands, swimmers are being advised to remain in shallow waters.
"The sea is a potentially dangerous place and if there is Great White, it can move very fast, from one place to another."
Mr Dogley also said he had received reports of a Great White shark being sighted off Alphonse Island three months ago.
Responding to a question on the shark population in Seychelles' waters, he said it is believed this has recently gone down because of finning by fishermen.
Some operators voiced concern that activities such as excursions to Praslin and La Digue have had to be curtailed because of the shark attacks.
Ms Daniella Alys, secretary of the SHTA, said there have already been some cancellations as some visitors divert to Mauritius. She added that some others are not keen on going to Praslin anymore.
A representative of Ste Anne Resort said that even there, visitors are being advised to stop even snorkelling.
One operator said: "A rogue shark will come back. We have a killer which must be caught or killed".
He however also cautioned against excessive zeal and boats making too much noise, that will chase away the killer shark and be counter-productive.
Several delegates said that some boat operators were polluting our seas and beaches, as well as luring sharks inshore.
Mr Roland Rassool of Bel Air Hotel said that some visitors are using jet skis close to the beach and behaving in a life-threatening manner.
It was agreed that life guards, First Aid stations and patrols at some beach resorts could be helpful not only in deterring shark attacks, but to beef up security at beach resorts.