Parti Lepep ready to contest upcoming legislative election
24-August-2011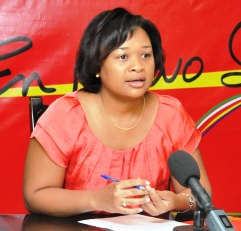 The party's executive director Marie-Antoinette Rose made the announcement at the party's headquarters at Maison du Peuple yesterday morning.
The announcement comes a day after the opposition had said it will not to take part in the assembly election until reforms to electoral laws are made.
Ms Rose said Parti Lepep respects the decision of the opposition group not to take part in the upcoming legislative election even though the party believes that this is not the only reason why the opposition has made this decision.
Ms Rose said it is important to note that the opposition has previously taken part in 11 elections the country has organised under the same electoral system which it is today boycotting and through which it has continuously improved its score -- from 4% to 44% .

Ms Rose further noted that the different opposition groups were very happy to take part in the May presidential election and therefore, the party believes that this is not the true reason the opposition is not taking part in the upcoming legislative election.
"I believe if the opposition has other reasons -- like for instance not enough candidates or if it is not ready -- at least to explain these reasons to its supporters," she said.
Ms Rose noted that Parti Lepep is ready to take part in the election as it is well prepared to face any eventuality.
"I believe it is important to remind the people that an opposition group does not have any monopoly on our democracy and Parti Lepep is going through the forthcoming election because it is committed to push on with electoral reforms which have already started and need to continue."
She stressed that the only way to press on with the reform process is through an elected and functioning Assembly.
She said there are several laws which need to be debated and therefore this is why we need an Assembly.
"Parti Lepep is committed to work for the people who elected it," said Ms Rose, adding that the government, the party, the people and our democracy need an Assembly to account for the work which is carried out.
And there is a lot more work to be done to improve the lives of our people, said Ms Rose.
She added that no group can hold hostage the work that others have been mandated to carry out.
"Parti Lepep is focused on the work it has been elected to carry out in the new Seychelles," Ms Rose said.
Parti Lepep has welcomed both local and international observers to the upcoming legislative election as it is important that the electoral process is carried out in full transparency, said Ms Rose.