President Michel meets Australian Governor-General-Education, conservation and trade focus of talks
24-August-2011
President Michel, who was on the second day of his state visit to Australia, was greeted on arrival in the Australian capital by Mrs Bryce, in a ceremony which included a 21-gun artillery salute. The President also inspected a Guard of Honour.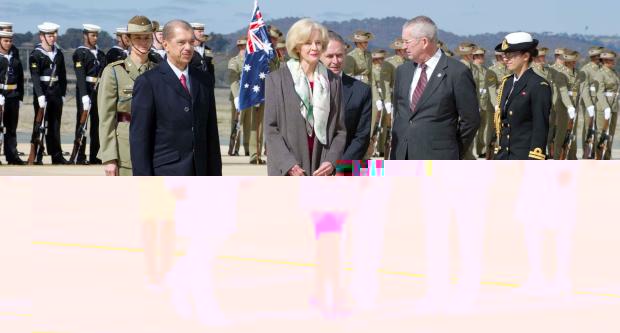 Following his arrival, the President visited the Australian War Memorial, where the names of 102,000 Australians who died in wars around the world are inscribed on the walls of the monument.
The President laid a wreath on the tomb of the Unknown Australian Soldier and observed a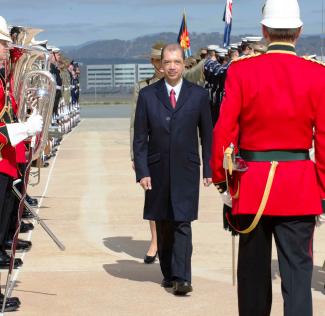 minute of silence.
Governor-General Bryce welcomed the President and his delegation at Government House, where the two heads of state discussed cooperation between Seychelles and Australia, in the fields of education, conservation and trade.
"From the West to the East of the Indian Ocean, Seychelles and Australia face each other as friends, partners and guardians of an oceanic and environmental heritage which we protect on behalf of humanity," said President Michel during the meeting.
The President said the traditional ties between Seychelles and Australia are strong; particularly as many Seychellois reside in Australia and contribute positively to society.

"The large number of persons of Seychellois origin resident in Australia lends a special rapport that has been cemented through Australia's cooperation with Seychelles in a number of fields. I am pleased that so many of our students are having the opportunity to enhance their skills through various Masters scholarships offered by Australia."
The President said that Seychelles and Australia are partners in the global fight to ensure better governance of their environmental assets and concrete action on climate change.
"The understanding and support of Australia for issues concerning the development of Small Island Developing States is very much appreciated and reflects the genuine desire to bridge gaps between the climate problems and their prospective solutions," said the President.
The meeting was also attended by the Minister for Foreign Affairs, Jean-Paul Adam, the chief executive officer of the Seychelles Tourism Board, Alain St Ange, the vice-chancellor of the University of Seychelles, Rolph Payet, and the Seychelles high commissioner to India, Dick Esparon, who is accredited to Australia.

Fact File
• There are currently 13 Seychellois students studying in Australia and between 2007-2009 a total of 163 Seychellois students completed their university studies in Australia.
• It is estimated that approximately 25,000 Seychellois live in Australia, which include first-generation Seychellois as well as second and third generations of emigrants.