Coastal and flooding study going smoothly
25-August-2011


Mr Dogley addressing delegates at the workshop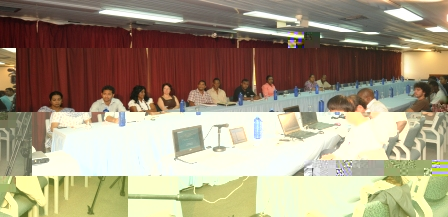 This was said by Wills Agricole, director general for climate and environment services in the Environment Department, during a workshop on Tuesday at the International Conference Centre.

The half-day meeting was attended by environment principal secretary Didier Dogley as well as stakeholders from several non-governmental organisations and government agencies.
It was led by the Japan International Cooperation Agency expert team which include Hiroshi Hashimoto, Shuishi Mori and Shuiji Kaku. Professor Tomoya Shibayama of the Japanese Waseda University was also there.
Mr Agricole said the goals of the US $3 million project financed by the Japanese government are to formulate a coastal conservation plan to enhance coastal management and a flood management plan to reduce flood risks in the country.
He added that pilot projects will also be done to confirm the effectiveness of the measures.
"Technical transfer will also be undertaken, where relevant personnel will attend trainings and workshops."
He said that one year through the study the experts have suggested the needs to improve drainage in Victoria, as the level of rainfall in the area has increased and causes inundation.
They have also managed to identify appropriate methods to rehabilitate coastal areas which have been affected by erosion.
He explained that pilot projects will take place on Mahe in areas which have inundation problems such as in Victoria and also in the Baie Lazare district.
On Praslin and La Digue several of these sites have also been identified.
"Our coastal areas are being eroded as a result of climate change, for example at North East Point on Mahe and Anse Kerlan on Praslin."
He added that the workshop was also a chance for other stakeholders to be introduced to this study.
"It was also to introduce the Japanese experience for coastal erosion and its measures, sharing of progress of the study among the local government officials, non-governmental organisations and other agencies," he said.
Mr Dogley said the more frequent occurrences of coastal erosion and flooding have now become an inconvenience to the country's socio-economic development.
"This is due to the fact that most of the infrastructure as well as economic activities are found at the coastal plateau of the islands."
He said there is a need to come up with solutions in order to mitigate the effects of coastal erosion and flooding occurring along the coastal zones of these islands.
During the workshop several presentations were given by the experts on the coastal and flooding issues and its solutions. Delegates learned more about the tsunami which struck Japan earlier this year.