Workshop on innovation and new product development-'Innovation crucial to enhance productivity'
26-August-2011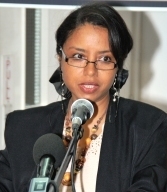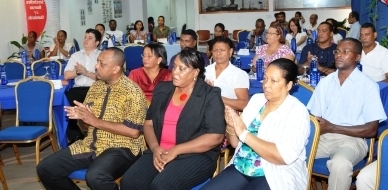 Ms Athanasius addressing delegates at the opening of the workshop yesterday
This is through a two-day workshop on innovation and new product development which opened yesterday at the International Conference Centre.
The meeting, organised by the Department of Industry in partnership with the United Nations, Educational, Scientific and Cultural Organisation (Unesco), was attended by the Minister for Investment, Natural Resources and Industry Peter Sinon.
The principal secretary for Industry Lucy Athanasius was also there as well as Dr Marie Reine Hoareau, secretary general of the national commission for Unesco in Seychelles.
The workshop is being led by Bob Davies, a consultant who specialises in innovation, sales and marketing.
There were also representatives from several local businesses and governmental organisations including the Seychelles Bureau of Standards, the National Arts Council and the Seychelles Tourism Board.
At yesterday's session of this workshop, delegates learned more about the role of marketing, product management and new product development and market insight and research.
Ms Athanasius said the workshop is a continuity of another one held in May in partnership with Unesco.
She said delegates who attended the first workshop suggested that they should have a seminar where they can learn how to make new innovative products and give better services.
She said "we are in an economy with lots of competition and it is vital for businesses and organisations to come up with ideas on how to improve their products and services so that they are more attractive and sellable."
She added that innovation in both the production and use of ideas and technology is crucial, because it drives productivity growth and consequently economic development.
"It covers all areas, from consumer-driven innovative products and services to developing new business models, new organisational structures and skills for innovation."
"We need innovation to boost productivity, where productivity is about making the most of available resources, combining them in new ways and creating new sources of value," she said.
She told the delegates to use this workshop to begin this important task "by using our collective efforts to determine how Seychelles can become a leader in innovation in the Indian Ocean region as well as wider African region.
"And to expand and further develop innovative small and medium enterprises in Seychelles; support and increase the number of companies creating the products and services of tomorrow and creating high quality employment for our people."
Ms Athanasius said "for us to develop smart and efficient citizen-oriented public services and become energy independent to realise the dream of a new Seychelles, we need to don our thinking caps, dig into our pockets, experiment and persevere."