IVth Commonwealth Youth Games from September 7-13 in Isle of Man-Seven Seychellois athletes receive plane tickets
26-August-2011
They are swimmers Aurelie Fanchette and Adam Viktora, athletes Jana Malbrook and Aaron Tirant, boxers Edward Robert and Dario Gabriel and badminton player Richie Course. They will be accompanied by coaches Jerry Legras (boxing), Linda Jeanne (athletics), Annette Monthy (swimming) and Calix Francourt (badminton), while Hebetty Alcindor will head the delegation.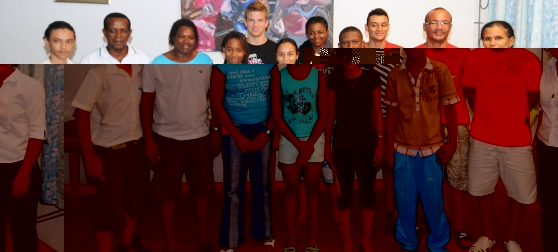 They received their plane tickets from Seychelles Olympic and Commonwealth Games Association (Socga) president Antonio Gopal during a ceremony yesterday at the Olympic House, Roche Caïman, in the presence of the association's secretary general Alain Alcindor.
Mr Gopal said Socga, along with the local sporting federations and associations, will seize all available opportunities to help the country's young athletes to get international exposure.
He asked parents to play a vital role in helping their children make the right choice, which is sports, over bad influences.
This, he said, will help them live a healthy life. Mr Gopal also urged the young athletes to maintain a high level of discipline throughout the Games to promote the image of Seychelles' sports.
Before guiding the athletes through Socga's code of conduct, Mr Alcindor asked them to act as the country's ambassadors during the Games.
The Commonwealth Youth Games is a small-scale version of the Commonwealth Games for young athletes aged between 13 and 18 years of the 71 Commonwealth countries.
Approximately 1,000 young athletes will be competing in seven sporting events – athletics, badminton, boxing, cycling, gymnastics, rugby sevens and swimming.
The newly refurbished Bowl Stadium in Douglas will host the event's opening ceremony.

R. D.