Is this the 'killer shark'?
27-August-2011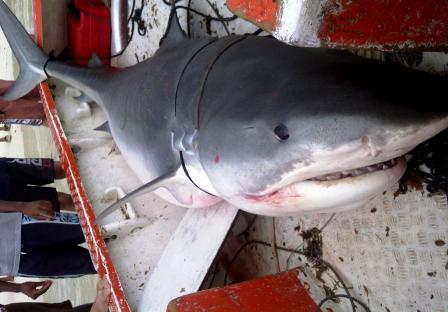 According to police spokesperson Jean Toussaint, the shark was caught at around 8.30am and it is not clear if it is the one the authorities are looking for as they did not find any human body parts in its stomach.
"Although tests done at the Baie Ste Anne hospital on the content of the shark's stomach did not show any sign of human body parts, we will proceed with more scientific tests," said Mr Toussaint.
He added that the search for the killer shark will still go on.
The first fatal attack happened on August 1 at Anse Lazio Praslin and Frenchman Nichol François Xavier Virolle was the victim.
On August 16 again at Anse Lazio, Englishman Ian Redmond lost his life while snorkeling, 10 days after his wedding to Gemma Houghton at St Michael's Church in Dalton, Lancashire. They were in Seychelles on their honeymoon.
The Seychelles authorities brought in two shark experts from South Africa – Geremy Cliff and Michael Anderson-Reade, from the Kwa-Zulu Natal Shark Institute – to help the government in coming up with a comprehensive set of measures that need to be taken to counter future shark attacks (see story below).
Found in many tropical and temperate waters, the tiger shark is a solitary, mostly night-time hunter and is considered to be one of the most dangerous to humans although the attack rate is surprisingly low according to researchers.
They often visit shallow reefs, harbours and canals, creating the potential for encounter with humans.