Australian Luxury Travel & Style magazine carries cover article on Seychelles
27-August-2011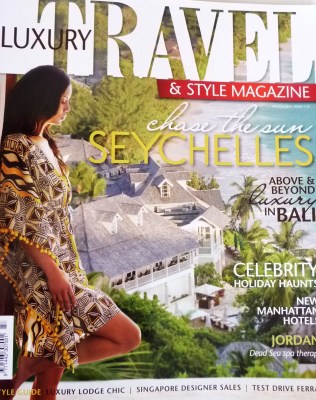 Their eight pages of full colour pictures and editorial confirms that these unique islands, sitting in the middle of the Indian Ocean, have "all the ingredients of an island paradise - white sandy beaches, warm turquoise water and lush tropical rainforest".
Jenny Koh says that she followed in the footsteps of the Royal couple to confirm that it is indeed a hotspot for those in the mood for love.

"These fabled islands are a lot more than first-class sun, sand and sea, of course. Just ask William and Kate," says the very experienced writer Jenny Koh.

The article on Seychelles starts with 'If my toes could talk, this is what they'd be saying: I'm in heaven. I'm on a glorious stretch of beach of white sand in Beau Vallon Bay, with the turquoise hues of the Indian Ocean beckoning me to come closer'.

The article in the Australian Luxury Travel & Style magazine came out at the same time as President James Michel is on a state visit in Australia.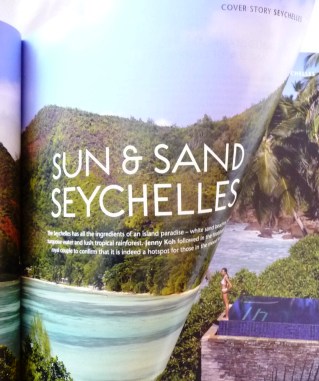 The Seychelles prides itself on being one of the last destinations promoting personalised tourism. Its Seychelles Brand of Tourism, launched as the vision of the island's tourism industry by President Michel after he personally took over the portfolio of tourism, has been noticed from the four corners of the world.

Today the chief executive of the island's Tourism Board, Alain St Ange, is a regular speaker at tourism conferences. The world wants to know more on the achievements of Seychelles and how it has managed to increase its visitor arrival numbers when its main markets are facing economic difficulties.

Jenny Koh seems to have captured the essence of the Seychelles Brand of Tourism when she writes in her article in the Australian Luxury Travel & Style Magazine: "Here you are not a guest, as the staff are quick to point out, but a resident, a resident who gets a 24-hour butler service".
Seychelles is also the first tourism destination to have now officially declared that over half of its land area has been designated as Nature Reserves.
This move by the Seychelles government has helped the island's tourism board to re-launch its wide range of activities it calls the country's niche markets. From bird watching to sailing, diving to big game fishing, bush walks to fly fishing are all today successful because of the strict environment protection laws in place in Seychelles.
Mr St Ange, who is also in Australia as part of the presidential delegation, has said he is happy to have seen that the latest copy of the Australian Luxury Travel & Style magazine has brought Seychelles to Australia and to Australians.

"We are thankful to Jenny Koh and to the Editorial Board of the Australian Luxury Travel & Style magazine for having covered the Seychelles in their great magazine. You have done us proud," he said.