Rousseau receives IAAF Plaque of Merit
27-August-2011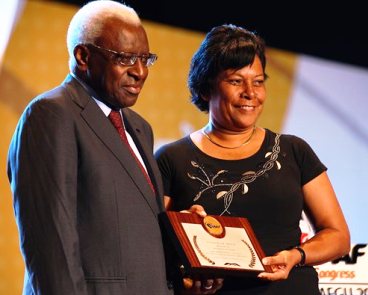 She received the plaque from IAAF president Lamine Diack on Wednesday night at the start of the 48th IAAF congress in a colourful and spectacular ceremony held in the Grand Ballroom of the Exco-Hotel in Daegu, Korea.
Speaking to Sports Nation via email, Rousseau, who is still in Daegu, said she is "deeply honoured the Confederation of African Athletics (CAA) nominated me as the recipient of the IAAF Plaque of Merit."
The plaque is awarded to six persons every two years, and each continent nominates one person.
"I'm very happy and proud. This award is given every two years during the opening of the IAAF congress.
Each IAAF area (six altogether) chooses one person. To be chosen from the long list of possible recipients from Africa is a real honour not only for me but also for Seychelles.

"I am very happy Africa has recognised and appreciated my contributions towards the development of athletics locally, regionally, continentally and internationally over the last 23 years," said Ms Rousseau who was awarded the IAAF Veteran Pin in 1987.
Ms Rousseau added she is really grateful she was able to receive the award in person from the IAAF president in front of representatives of 201 countries.

"To have got someone to collect it for me would not have been the same, so I am really grateful to the National Sports Council, Jocelyn Philogene and Nishita of EME Overseas Ltd and Nell Ah-Weng who contributed towards my airfare and accommodation," she added.
The other recipients of the Plaque of Merit are Surapong Ariyamongkol (Thailand, Asia), José Maria Odriozola (Spain, Europe), Jesus Molina Hernandez (Cuba, Nacac), Geoff Annear (New Zealand, Oceania) and Ricardo Sasso (Panama, South America).
Frenchman Jean Poczobut won the IAAF Gold Order of Merit, German Otto Klappert the IAAF Silver Order of Merit and John Velzian of Great Britain the IAAF Honorary Plaque.
Rousseau, who served as the Seychelles Athletics Federation secretary general from 1987 to 2004 and did not stand for re-election even though she was the only candidate, was the Africa zone 7 (five countries) president from 1988 to 1993 and African Southern Region (14 countries) from 2003 to April 2007.

She was a CAA member from 1988 to April 2011 and also a member of the IAAF Women's Committee representing Africa from August 1995 to August 2007.
During this year's CAA congress, Rousseau was made a CAA Life Member.
She started getting involved in athletics in 1980. The following year she did an intermediate course in middle and long distance running and in 1984 she followed the IAAF Basic Level 1 coaching course.
In 1995, Rousseau did the IAAF Lecturer's Officiating Course and became an Area Technical Official (ATO) in 1998. From 2005 to 2010, Ms Rousseau served as an International Technical Official (ITO) and has officiated in two Commonwealth Games, two All-Africa Games, a number of time is the African Athletics Championships, one Athletics Grand Prix final and in the Berlin World Athletics Championships. She is presently an ATO.

G. G.