Basketball: Charity matches-Top teams and friends back ex-Star Samy
29-August-2011
According to Seychelles Basketball Federation (SBF) chairman Roy Collie, through the matches which featured last season's top two finishers in each national league, the local basketball federation was targeting Mrs Samy's airfares and that of other people who will accompany her.
Other than the matches, the SBF and its partners also organised a raffle, while individuals and organisations also made contributions on Saturday. They are Ruby De Silva, Gerard Waye-Hive, Sheila's Creation, Gracie Johnson, Sheila Ah-Kong, Michael Mancienne, Nadine
Andre, Ronny Ernesta, Patrick Bonnelame, Lorenzo Lawrence, Swim Blue company, Alfrix Wholesale company, HotShots and Mont Fleuri basketball teams.
In the first match, last season's men's division two champions Drifters defeated Juniors 55-39. Juniors were replacing the division's runners-up Praslin Warriors.
The second match featured the top two finishers in last season's women's league. Champions HotShots came from behind to stroll past Mont Fleuri.

After losing the first quarter 8-10, HotShots stepped up their game to win the remaining quarters 15-12, 23-2 and 18-6 to win the match 64-30.
Men's division one reigning champions PLS Hawks clashed against runners-up Premium Cobras in the third charity match on Saturday. Hawks won the first quarter 18-8 against a disorganised Premium Cobras who had Peter Bresson replacing coach Guy Hall on their bench.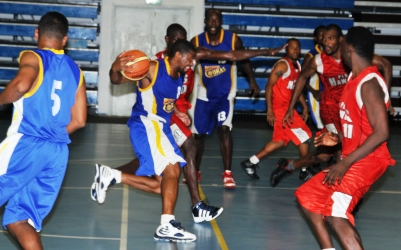 The second quarter was a bit more entertaining as Cobras improved their play to win it 21-18 but still trailed by seven – 29-36 – at half-time.
The third and fourth quarters remained a tightly contested affair with Hawks in the driving seat from their first half advantage. They narrowly won both quarters on similar 15-13 scores and the match 66-55.
R. D.