Police hold peace song competition
01-September-2011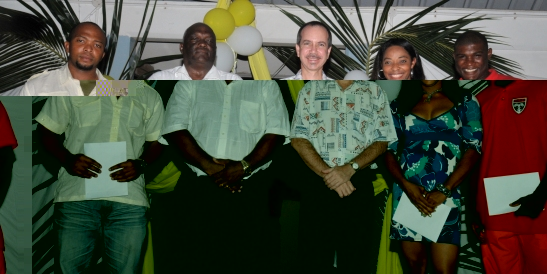 During that same ceremony, three police officers who took part in the recent Indian Ocean Island Games (IOIG) were rewarded.
The event, held at the police academy at Pointe Larue, was attended by the Minister for Home Affairs, Environment and Transport Joel Morgan, Police Commissioner Ernest Quatre and other high-ranking officers.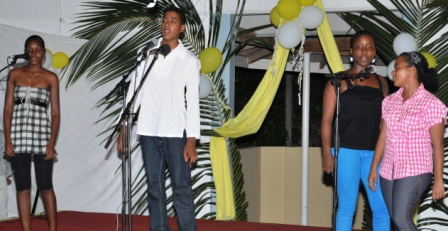 The idea for the peace song contest came a few months ago when the talents of a good number of police officers were discovered during a social activity.
After deciding on a song competition, the theme peace was chosen mainly because Police Day is celebrated on September 21, which coincides with World Peace Day.

The elimination stage was held so that another bigger event could be staged on September 21, although the organisers have yet to confirm this date, as the country will be going through the campaigning period for the national assembly election set for September 29, 30 and October 1.
Addressing those present, Commissioner Quatre said the police talent show began a few months back when the operations department initiated a series of night activities, with the aim of getting officers together to socialise after a hard day's work.
"In addition to that, it was proposed that we take the opportunity to see what they can contribute to make such nights more pleasant, hence the birth of the police talent show," he said.
"I also strongly believe that such an initiative should continue to be nurtured so that it builds on our team spirit, comradeship and allow us officers to socialise and unwind."
Meanwhile the three officers who were rewarded for their performances in the 8th IOIG were Janet Georges, Terrence Dixie and Keddy Agnes, who out of the games' gold haul, contributed seven or 12% . They were presented with prizes from Minister Morgan.
Mr Quatre said this showed how significant the officers had been to Team Seychelles.
"On top of that, Sergeant Janet Georges made us even more proud when she was selected as captain to lead the Seychellois athletes, and what a captain she proved to be!" he said.
"Under her captaincy and leadership, Team Seychelles made history by collecting the highest-ever score in any IOIG before."
The evening continued with a number of performances, which included poems, dance exhibitions and also featuring several guest artists.