Airtel gives more aid to disabled council
02-September-2011
The firm's managing director Tsiresy Randriamampionona and the council's chairperson Patricia Rene signed the document on Wednesday at the North East Point vocational centre.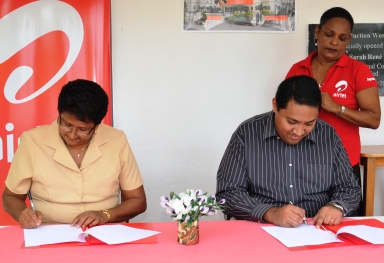 The council's programme manager Maurice Denis also accepted several carpentry equipment, a sewing machine and refrigerator from the company which will be used by trainees for vocational activities.
This ceremony took place in the presence of Social Development principal secretary Linda
William Melanie as well as the members of the National Council for the Disabled, Airtel's staff and trainees of the vocational centre.
Through the agreement Airtel will provide technical and other kind of support to the council worth R230,000 throughout the year. The staff will also do voluntary work and share some of their skills with the trainees.
Thanking Airtel and its management for this cooperation, Mrs Rene said the partnership, born in 2008, is of great benefit not only to the trainees but the community.
"We are promoting the inclusion of persons with disability in the community, and the firm will build ramps in two government schools so that persons with disability can be integrated into the mainstream school."
Mr Randriamampionona said Airtel wants to give back to the community and support the disabled.
"This is really the main focus that we have in expanding this partnership and we are looking forward to do more."
He added that this year is a turning point where Airtel has decided to engage into long-term cooperation with the council.