Submarine cable project on track
02-September-2011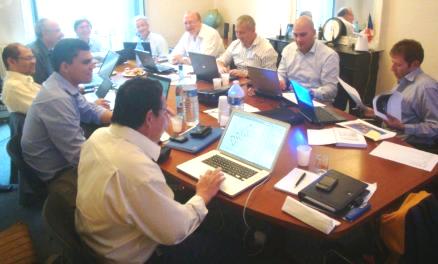 The contract coordination meetings are attended by the contractor and the client, and last week's was the fourth to be held in relation to this project.
The meetings ensure that the project is on track, and all outstanding actions on the client side (Seychelles Cable Systems company – SCS) and on the contractor side (Alcatel-Lucent Submarine Networks – ASN) are addressed in good time.

At this latest meeting -- the first after ASN had confirmed that all conditions for project implementation are in force -- the plan of work for the project was confirmed as well as various technical and operational decisions finalised.
It was also established that the SEAS is slotted to be loaded on the cable laying ship around February 27, 2012. This is in line with its projected time-table for its laying and landing in Seychelles towards the end of the second quarter of 2012 and eventual coming into full operation towards the end of the third quarter of 2012.

Following the meeting, it was concluded that as at end-August 2011, the project remains on track, with the submarine cable being due to come into commercial service before the end of 2012.

The coordination meeting with ASN was attended on the SCS side by Benjamin Choppy (SCS board chairman), Bertrand Belle (board and company secretary) and Gilbert Fock-Tave (representing Cable & Wireless Seychelles (CWS) and the SCS procurement group).
SCS was also supported at the meeting by AXIOM, the specialist submarine cable consultancy firm contracted by SCS as its project and quality assurance manager.
In line with the coordination meeting, Alcatel and SCS technical are also carrying out an inspection visit in Dar-Es-Salaam (Tanzania) this week to ascertain the status of preparation at the Zantel station for receiving SEAS.
This will be followed immediately during the same week by a similar inspection visit in Seychelles which will be looking at Beach Manhole (BMH) currently under construction at Beau Vallon, the duct route to Victoria and Cable Landing Station (CLS) preparations by CWS.
The cable project is a public private partnership, with the three parties involved being the government of Seychelles, CWS and Airtel-Seychelles. The project will be costing approximately Euro 27 million to implement and has been financed through equity from the three shareholders and loans from the European Investment Bank (EIB) and the African Development Bank (AfDB).