Minister Morgan's La Digue tour-Roads, drainage, erosion and park security issues of concern
02-September-2011



The Minister for Home Affairs, Environment, Transport & Energy and his delegation, who included representatives of Land Transport, Planning, Environment and La Digue Island Board, found that a fair share of the roads are in a bad state.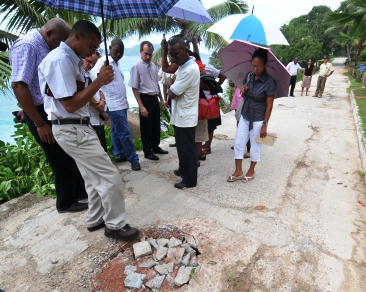 The tour took them to Belle Vue, where the road is cracked or even caving in in some places.
A similar situation prevails at Anse Sévère-Anse Patate-Anse Fourmi.
Minister Morgan gave an undertaking that he will consult with cabinet to have the road repairs listed as capital projects for next year.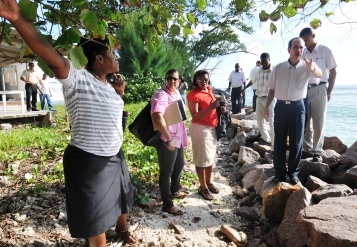 The members of the entourage also noted that road signs should be more environmentally friendly.
La Digue is also full of signs indicating tourism establishments. It was noted that there is a proliferation of them at La Passe, in the vicinity of the jetty. It was suggested by the minister that they be placed in such a way as not to constitute an eyesore.
It was also noted that La Digue is unique for its ox-carts and bicycles and that some drivers of motor vehicles have been speeding and driving recklessly. There are some thirty vehicles on La Digue, including five taxis.

While taxis are required, according to the conditions of their licence, to provide a service at all times and to have a second driver for that purpose, this is being largely ignored. It was suggested that the 25km/hour speed limit on La Digue be strictly monitored by the police.
Drainage of the Anse Reunion plateau is also a problem. In some parts, the water is eroding
land in these areas. One solution appears to be rock armouring, which is very costly. There was also the issue of siltation, which if allowed to continue, can only aggravate the problem.
Minister Morgan said that if the funds are secured for the roads and drainage, the services of a large experienced contractor will be sought to ensure the job is done fast and efficiently.
Waste disposal is also a major issue on La Digue. Among sites visited were La Passe, near the police barracks, where refuse accumulation was a disgrace. The minister instructed the officer in charge to have the place cleaned up.
Elsewhere, wastes such as old tyres, chunks of metal and plastics have also been indiscriminately dumped.
The only dump site is at Upper l'Union and clearly some Diguois are not over-exerting themselves to keep their tranquil island haven clean. There is private waste collection company, using a pick-up truck, called "Island Waste Collection" but many Diguois, it appears, are unwilling to pay to keep their island in a pristine state.
Coastal erosion is also becoming a major concern on La Digue.
The Minister and his delegation visited the site near Logan Hospital to find that up to two metres of the beachfront not protected by rock armouring had been eroded by the waves.
Some of the issues were brought up at the tourism meeting, attended by hoteliers and other operators as well as the Seychelles Tourism Board (STB).
The chairman of the Seychelles Hospitality and Tourism Association (SHTA) reiterated a call for action to be taken against speed boats who venture into areas used by swimmers and snorkellers. He recalled that some years ago, a tourist snorkelling off St Pierre was decapitated by a reckless boat operator and this generated a lot of negative media coverage.
The issue of Anse Source D'Argent, where many visitors have fallen prey to thieves, was also raised. It was suggested by some operators that since the beach resort is part of the L'Union Estate Park and an entry fee is levied on visitors, they are entitled to more policing to ensure their security and safety.
At the meeting, it was also announced that La Digue is to have its own fire station soon to support residents and tourism establishments.
The accompanying photos, taken by our photographer Patrick Joubert, show some issues of concern raised and some places the delegation visited during the tour on La Digue.