Popular travel journalist votes Denis Island dive as his favourite
03-September-2011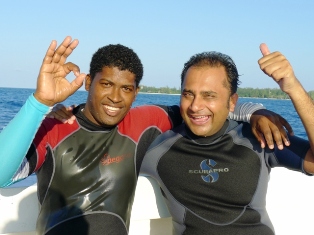 It is therefore without surprise that prominent travel journalist Varun Sharma from the Inside Luxury Travel show voted the Denis Private Island dive as his favourite dive of the year so far. A video capturing this epic underwater experience can be seen on the Luxury Travel show website (http://www.insideluxurytravel.co.uk/videos.html).
The video showcases the magnificent and timeless ballet of the island's lagoon playing on in perfect harmony, inviting you only to gaze in wonder.
The turquoise water surrounding Denis Island unravels an exotic marine life, making it an ideal location for snorkeling, swimming and diving enthusiasts.
The protected underwater of the island allows it the privilege of being ranked as one of the interesting areas for diving in Seychelles and the island's lagoon is nothing less than your personal aquarium with a cast of thousands, inviting you to take part and admire.
The Inside Luxury Travel is now being beamed in over 500 million homes worldwide with broadcasters including Travel Channel worldwide. The show was devised by Sharma. His expertise together with an award-winning television production team gives access to some of the most private and exotic locations around the world. Denis Private Island (Seychelles) was proud to form part of his classic array of journeys.