Diamond SA launches brand name for the Indian Ocean
03-September-2011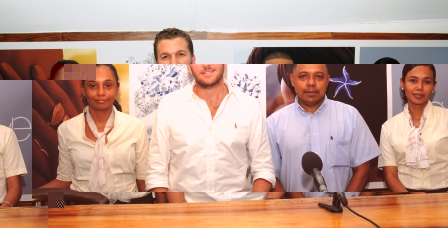 Speaking at a well-attended press conference at the company's flagship, Kenwyn House, Mr Thorrington said it is hoped JOUEL will in due course become a household name and spread to other business the company has in Mauritius.
Diamond SA has interest in mining concerns in South Africa, including De beers and Rosy Blue, where diamonds are mined and stones polished.
The designs come from different parts of the world. There is a tropical collection, inspired by the unique flora and fauna of Seychelles, such as the coco de mer, hibiscus and fish.
Mr Thorrington said that after setting up two shops -- one at Mahé international airport and Praslin airstrip, the company grew to have seven other outlets, including its headquarters at Kenwyn House and others at major hotels.
One of the finest examples of French architecture in the islands, the restoration of Kenwyn House, a treasured national monument, took more than a year to complete, but was ultimately a defining accomplishment for Diamond SA.
"Essentially JOUEL is not just a range of high-end jewellery - it is an experience," Mr Thorringon said.
"With so many unique experimental retail outlets and custom made jewellery pieces, the experience is something we want visitors to cherish along with their other memories of Seychelles," he added.
Diamond SA has a staff of 25, all of whom are Seychellois.
Also in managerial posts are Agnes Naidoo-Legras (financial controller), Tracy Esparon (stock controller) and Joshua Marguerite (sales and marketing manager). Mr Thorrington commented that though the company originates in South Africa, it is today very much a Seychellois enterprise, making a valuable contribution to Seychelles' tourism.
The going however has not been easy, as with the 50% rupee devaluation - as part of Seychelles' economic reforms launched in 2008 -- combined with the world global recession, the company lost half its local clientele overnight.
Meanwhile, jewellery and other products are also costing more - with the price of gold notching up a record $1,500 a fine ounce, while the price of diamonds have doubled.
Besides gold and diamonds, the company also sells other stones such as Tanzanite, a striking violet-blue gem only found in the foothills of Kilimanjaro, Tanzania.
Other treasures include the South Sea pearls, which coming in shades of blue, pink, silver, green and gold are reminiscent of tropical seas and sunsets of the Indian Ocean islands.
"But we have cruised the bad times, remained afloat and are still alive," he said.
He said that today, Kenwyn House receives over 40,000 visitors, while more also patronise its airport outlets, as well as those at the Vallée de Mai and hotel shops.
Over the years, the company has also diversified into paintings and other artwork produced in Seychelles. It sells only high-end products and liaises with the National Arts Council to do so.