Football-Coaching, administration and sports medicine courses soon
03-September-2011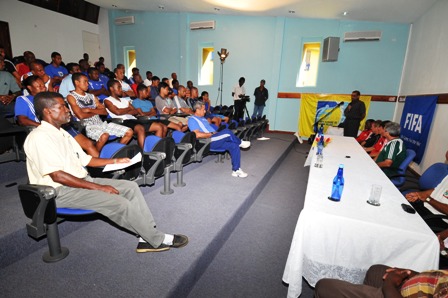 Seychelles Football Federation (SFF) technical director Ulric Mathiot has already drawn up a series of coaching, administration and sports medicine courses to take place from October to December to help boost the level and credibility of Seychelles' football.
The idea to run courses for coaches, administrators and medical officers came up in a symposium organised by the SFF in May.
The first course on the programme is the Confederation of African Football (Caf) level B coaching course which will run from October 24-27.
It will be followed by the Caf level C course from October 28-31 and the grassroots football course from November 21-26.
It was agreed during the symposium that as from 2012, first division coaches must hold a Caf 'C' licence, which should be upgraded to levels 'B' and 'C' in the following two years.
As for second division coaches, they should hold a level 'C' certificate by the start of the year 2013 and should reach level 'B' by 2014. All third division coaches must hold Caf level 'C' licences by 2014.
The Caf coaching licensing system serves a platform to evaluate coaches and to inject more professionalism into the art of coaching aimed at reaching homogenous and high professional standard.
It was also agreed that all registered teams must have a SFF-certified manager (administrator) and a sports medical personal by 2012.
The Fédération internationale de football association (Fifa) and Caf football administration course will be conducted from December 5-9, while that for medical personnel is from December 12-16.
All coaches, club administrators and medical personnel who will be following the courses are asked to contact Mr Mathiot on 2722488 or the SFF office on 4601160.