H. Savy insurance opens Praslin office
05-September-2011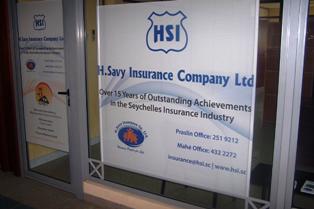 The office is situated on the first floor in Suite 9 of the Pension Fund Complex building at Grand Anse, together with the office of YM Associates belonging to tax agent Yenzie Maria.
It will be a point of contact for residents of Praslin and La Digue to have their insurance queries attended to or if need be, referred to head office for attention.
The office is open from 8am to 4pm Monday to Friday.
Explaining the rationale behind opening an office on Praslin, the company's general manager Lambert Woodcock said:
"Until now, HSI has relied on its brokers/agents to serve, support and grow its Praslin and La Digue businesses. Over the past years, the company has seen a major expansion in underwriting business and prospects ahead remain highly positive as Praslin and its neighbouring islands consolidate their tourism industry and the diversification of the non-tourism activities.
"Whereas on Mahe, HSI enjoys high visibility and a strong brand image, this has so far not been the case on Praslin. However, with the opening of our liaison office there, we expect to see a change in this situation."
He added that the company's next step is be to build the office into a full-scale branch as soon as the technical capacity is in place.
"The company sees the opening of this liaison office as another milestone in its corporate developments and will surely help the company in reaching its Destination 2015 commercial targets," he added.
Destination 2015 is the company's medium-term strategic platform launched recently during a team building seminar at the Ephelia Resort conference centre.
With the opening of the office, officers from the company's head office on Mahe will be making regular visits to Praslin to attend to specific insurance needs of customers on the island. The liaison office can be reached on 2519212.