Volleyball-Mixed results for men's and women's team
05-September-2011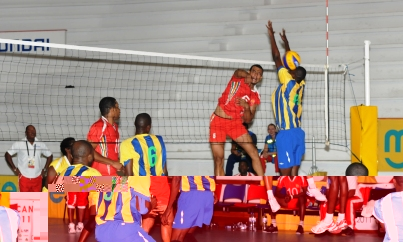 On Friday, captain Jones Mangroo and company dominated Mozambique, winning the match in three sets – 25-19, 25-11 and 25-19.
The defeat against Rwanda has delayed Seychelles' chances of qualifying for the semifinal as all will depend on the result of third group match against leaders Cameroon yesterday.
Cameroon are already through to the semifinals with two victories against Rwanda 3-1 (25-20, 19-25, 25-20, 25-18) on Friday and against Mozambique 3-0 (25-17, 25-15, 25-23) on Saturday.
Rwanda were to play against Mozambique in the other group match last night.
As for the women's selection, they are practically out of the competition after losing their first two group A matches against Kenya on Friday and Nigeria on Saturday.
In their first match on Friday, the girls of coach Julien Onezime left the court with their heads high despite losing 0-3 (23-25, 15-25, 23-25) to a more superior and experienced Kenyan side.
Coach Onezime blamed the first defeat on the Games' tight schedule. He said because venue is far from the Games' Village, the players have to leave early without having a proper breakfast.
As for the second match against Nigeria, Seychelles put on a better performance despite losing 0-3 (23-25, 21-25, 23-25) and they were expected in action last night against hosts Mozambique in their third group match.
R. D.