Seychelles delegation march at opening ceremony
05-September-2011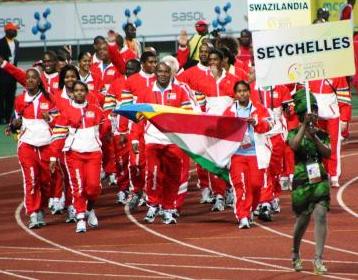 The Seychelles delegation with flag bearer Meggy Gertrude leading the way, made the lap of honour as did 36 of the 48 countries taking part in the Games.
Those present inside the stadium were entertained with traditional Mozambican music and dance.
While Africa's youngest country, South Sudan, is absent from the festivities, Nigeria made its presence felt with the largest team of all with 359 athletes.
Mozambican President Armando Guebuza welcomed the visitors to the "Pearl of the Indian Ocean" before declaring the multi-sport event open.
The choreographed show started after fireworks had erupted around the stadium. To the sound of African drums, dancers tirelessly depicted the story of Africa before colonialism, during colonialism and after liberation. The finale illustrated the successes of a post-colonialist continent and a united Africa.
More than 5,000 athletes are competing in the 24 sporting events at 16 venues in Maputo.
In the Games' ten-year history, South Africa have won it twice and Egypt five times, while Nigeria and Tunisia have each won it once.
G. G.
Photo by Alain Alcindor in Maputo