8th Indian Ocean Island Games-Volunteers' Night a success
05-September-2011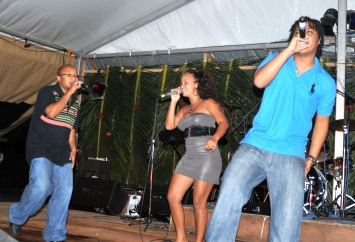 Some of the volunteers enjoying the night as Dez'il performs

The spectators came down in numbers at all the venues, the organisers put up extraordinary Games, the sponsors – large and small – provided financial support, but it was the volunteers who really got the machine working during the 8th Indian Ocean Island Games and helped bring on the gold.
All these partners helped Seychelles host fantastic, world class sporting events from August 5-14.
On Friday night, the Berjaya Beau Vallon Bay Hotel played host to all volunteers during the Volunteers' Night and they really enjoyed themselves.
Community Development, Youth and Sports Minister Vincent Meriton thanked all the volunteers for walking the distance with him and his organising team.
"Without you volunteers, the Games would not have been the same," he said, adding that "a volunteer's reward is not money."
"What you did is historic and you made Seychelles proud. We count on you to bring this same fervor into your communities to help clean Seychelles of the negative influences that are affecting our youths," said the minister.
Berjaya Beau Vallon Bay Hotel general manager Ken Choo told the volunteers that they were an integral part of the Games and that the athletes' success was also theirs.
Mr Choo even said that Berjaya Beau Vallon Bay Hotel has made the Volunteers' Night even better than the Night of Champions held earlier last week at the International Conference Centre.
Terry Servina of Cable & Wireless said that as long as there are volunteers in Seychelles, the communication company will continue to support sports here.
The Zez band and dancers as well as Dez'il performed on the night as the volunteers, who put in countless hours of volunteer time to support sporting events during the Games, enjoyed themselves.
G. G.