Construction students get creative with crushed glass
05-September-2011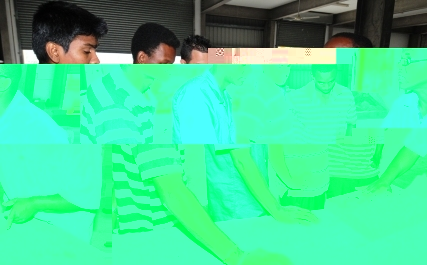 Together with their lecturer Cyril Hall they are experimenting with recycled crushed glass by adding it to raw building materials.
The first trial of this project was done by Mr Hall whereby he created a slab and then sent it to Gondwana Granite for polishing. The end product does not have a name yet but it resembles granite slabs used in homes except that there are crushed glasses of different colours on top.
Michele Martin from Sustainability for Seychelles said they came up with the sustainable management of glass waste in Seychelles, a project under the Regional Programme for the Sustainable Management of the Coastal Zones of the Countries of the Indian Ocean Countries (ReCoMaP).
And they managed to get used glasses from hotels, Seychelles Breweries and then started to think how they can recycle them.
"Several ideas came to mind but we also needed partners to help."
Miss Martin said now that the SIT has come up with this great idea, project partners are ready to help the school with raw materials such as wire mesh and funding for transport and use of electricity and water to name a few.
"I believe this could be made into a business. I mean, it's a practical idea," she said.
"Another great proposal is to fix the glass into the slab just like with the sample, but then simply wipe off the surface without polishing it so that the glass is exposed. I think that is a beautiful look for any wall finishing. Plus it's cheaper," she said. The final product is unusual but original in its beauty.
Miss Martin said she hopes the idea eventually catches on as it is unique and above all a greener way to go.
They get their glasses from Star Seychelles for free.
Mr Hall, who has a Degree in civil engineering from Bolton University, has also learned a lot about sustainable projects and decided to try it.
He said these slabs can be used as counter tops, flooring and even wall décor.
"I have a group of students who are working solely on this project. Basically, the project can be seen as a sort of experiment," he said.