Training launched for small entrepreneurs and procurement unit
07-September-2011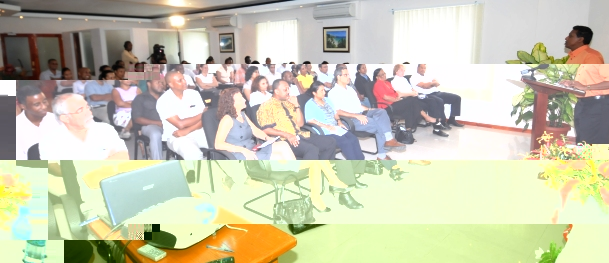 Held at the National Tender Board's headquarters at Maison de Mahé, the event was attended by Vice-President Danny Faure, the Minister for Investment, Natural Resources and Industry Peter Sinon, several principal secretaries and chief executives and other high-ranking government officials.
One of the two training programmes is an entrepreneurship skills course for small business enterprises which has been developed at two levels – an introductory and a certificate level. The course has been developed by the Seychelles Institute of Management (SIM), in partnership with the Small Enterprise Promotion Agency (Senpa).
It aims to give those taking part sound knowledge and skills needed to start and manage a business venture and make it a success.
The SIM chief executive Audrey Nanon said there is a growing global trend that small business enterprises play an important role in national economic development, provide job opportunities and produce much creativity and innovation vital to drive economic progress.

"The government in its efforts to support the small business enterprises, has dedicated funds for the development of the entrepreneurship skills," she said.
"In this light, small enterprises should make the most of this training and other stimulant incentives and go on to make their mark on the country's economy."
The other programme launched on Monday was a public procurement course at certificate level, developed by SIM in partnership with the Seychelles Procurement Oversight Unit and in consultation with several regional partners.
Mrs Nanon said procurement improvement has been identified as an essential part of our government's overall strategy to improve public sector performance and urged all its partners to continue the work to promote professionalism and enhance human resources capacity in Seychelles.
The National Tender Board's chief executive Mina Crea said while there has been much progress in advancing the public procurement system in the country, the Board does not want to get complacent over its achievements over the past three years.
"We know there is a lot more to do. Corruption is a daily reality and we cannot deny," she said.
"If we are to get rid of or at least minimise this malpractice, the importance of the role of civil society organisations and the general public in reporting such cases that they come across would greatly help the Procurement Oversight Unit to investigate and take the necessary measures, as provided for in the Public Procurement Act or by other institutions like the Ethics Commission."
Vice-President Faure said we should always keep in mind that transparency in procedures to give tenders, according to the Public Procurement law, ensures that we have a competitive and just system.
"For the private sector, it means that individuals or companies that are offering a better value for their prices will get the contract and that is what is meant by transparency and a just system," he said.
"For the public sector, financial resources are managed and used in a much more efficient manner, which means that more projects can be implemented with the same amount of money, so more ministers and departments can give a better service as a result of projects that have been implemented."
During Monday's event, Mr Faure also officially launched the National Tender Board's website.

An information centre on procurement activities was also officially opened.