51 candidates to stand in legislative election
07-September-2011



There were 25 from the Parti Lepep and 25 from the Popular Democratic Movement (PDM), while a nurse at Dr Chetty's clinic – Jacqueline Hoareau – will stand as an independent candidate in the Mont Buxton constituency.
There are six Parti Lepep candidates seeking re-election, namely: Wilby Lucas (Baie Lazare), Charles Decommarmond (Cascade), Dr David Payet (Glacis), Marc Volcère (Grand Anse Praslin), Jennifer Vel (Pointe Larue) and Jeovana Charles (Roche Caiman).
Parti Lepep's 19 new candidates are; Dr Jhowla Manoo (Anse Aux Pins), Bernard Arnephie (Anse Boileau), Melval Dugasse (Anse Etoile), Derek Samson (Anse Royale), Murielle Marie (Au Cap), Natasha Esther (Baie Ste Anne), Merina Souris (Beau Vallon), Nichole Barbe (Bel Air), Galen Bresson (Bel Ombre), Kevin Vidot (English River), Lenny Lebon (Grand Anse Mahe), Chantal Ghislain (Inner Islands), Emmanuel Fideria (Les Mamelles), Sheryl Vengadasamy (Mont Buxton), Begitta Jeannevol (Mont Fleuri), Roma Aglae (Plaisance), Sultane Jacqueline (Port Glaud), Hubert Hoareau (St Louis), Alderick Bristol (Takamaka).

PDM candidates are the party's leader David Pierre who will stand in Mont Buxton, Katty Belle (Anse Aux Pins), Welon Mathieu (Anse Boileau), Ralph Ernesta (Anse Etoile), Jude Bouzin (Anse Royale), Jane Carpin (Au Cap), Amedee Rose (Baie Lazare) Jourdane Ernesta (Baie Ste Anne), Daniel Morel (Beau Vallon), George Volcère (Bel Air), Franchasca Monnaie (Bel Ombre), Doreen Nancy (Cascade), Maxime Figaro (English River), Ronny Denys (Glacis), Marlene Loze (Grand Anse Mahe), Rivaltz Maxime Houareau (Grand Anse Praslin), Martin Aglae (Inner Islands), Jude Barallon (Les Mamelles), Emmanuel Delcy (Mont Fleuri), Handrick Zoe (Plaisance), Eddie Moustache (Port Glaud), Patrick Savy (Pointe Larue), Noella Samson (St Louis), Eric Labrosse (Takamaka) and Mervyn Francourt (Roche Caiman).
Marie-Louise Potter of Parti Lepep said most of the party's candidates are new and young, "in line with the party's succession planning policy of preparing the younger generation to take over from the base already created by their forefathers".
She said the young people are more energetic and the ones who will benefit from the changes that are taking place to continue the efforts started by the older members.
"It's part of our strategy to bring in new blood, new approach and new thinking, while staying firm on our basic principles."
Asked to comment on the absence of candidates from the Seychelles National Party and from the New Democratic Party, she said taking part in an election is a matter of choice but also a right and a responsibility, adding as the party's leader Mr James Michel has said Parti Lepep will continue to play its role.
She said it is not correct to say her party will not face competition given the PDM and the independent candidate are taking part.
"If there were no other candidates then we could say there is no competition in which case the rules laid out in the Constitution would have applied, but here I see quite a competitive battle," she said, adding her party's election slogan is A New Assembly.
Mr Pierre said he personally met and interviewed 35 hopeful candidates, saying it was not an easy task "but the hard work has paid off as he got 25 candidates he has confidence in and who agree with the new principles and approach his party will bring in the National Assembly.
His party does not believe in any form of injustice and is for true democracy, he said, adding he aspires that every Seychellois is respected.
"My party will work to eliminate any form of injustice that may exist in Seychelles. This will be dealt with once and for all."
He said the PDM will work to ensure the enactment of more democratic laws, changing those that need to be changed and modernising those that need to be.
The party's officials said it is fielding eight women and many young people, like 19-year-old Martin Aglae.
Mrs Carpin told Nation she has already resigned as a member of the Seychelles National Party, adding "they could not refuse my resignation since they were already trying to push me out of the party".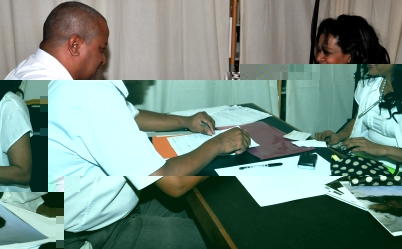 Mrs Hoareau – who is standing at Mont Buxton as an independent candidate -- said she wants to continue serving the people she has been serving as a nurse, by offering a different kind of representation as a calling from God.
Mr Pierre said his party is small and will not afford big rallies but will use a special tactic to reach voters, while Mrs Hoareau said she will "avoid bothering people in their homes".
Chief electoral officer Charles Morin said the nomination papers for the 51 seemed all right and all those from Parti Lepep candidates were accepted outright for being in order, but some from the PDM and those of Mrs Hoareau had voters among the 50 needed coming from the wrong districts and the candidates had to seek fresh ones.