Head of EU naval force meets President Michel
07-September-2011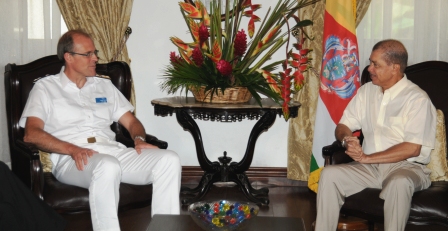 He said during the meeting they spoke about the scourge of piracy in the Indian Ocean.
Mr Potts said the Operation Atalanta has been running for about three years.

"The North Atlantic Treaty Organisation and all regional players as well as Seychelles at the forefront have done much to contain piracy though it is not defeated yet."
Towards the end of the south east monsoon "we expect an increase in activity, but as far as the European Union is concerned we will remain absolutely committed to it and our forces are out at sea at the moment preserving the trade passing through the region," he added.
The two-day conference, under the theme Piracy: orchestrating a response, opens today at the Le Meridien Barbarons Hotel.
Mr Potts, who is expected to leave the country on Friday, assumed the command of the EU Navfor Operation Atalanta in August this year.