President Michel opens high-level conference on 'Piracy: Orchestrating a response'-'We must claim back our seas,'
08-September-2011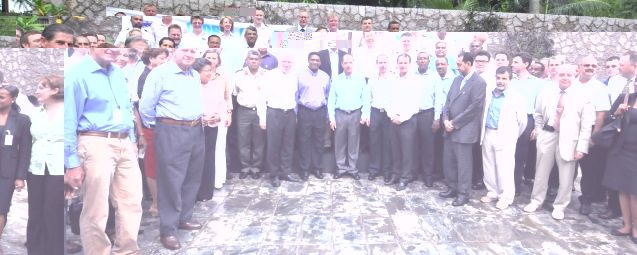 "A more robust approach at sea and more resources committed, have improved the overall response to piracy, but pirates have meanwhile shown a great ability to adapt and exploit any weaknesses," President Michel said in his speech to officially open the two-day conference being held at the Le Meridien Barbarons Hotel.
President Michel said more than most crimes, piracy has already exposed many of the loopholes of international law and lack of mechanisms as well as the inability of the international community to govern the sea effectively.
"In our conference, we will be discussing many of the specific measures we need to take to tackle piracy, but I ask all of you to also reflect on how globally we must strengthen the governance of our oceans. We must claim back our seas!" he proclaimed.
The opening ceremony of the conference, being held under the theme 'Piracy: Orchestrating a response', was attended by cabinet ministers, senior officers of the European Union naval force (UN-Navfor) and diplomatic representatives of many countries.
President Michel said we must strengthen our ability to ensure that we can harness the power of our oceans, of the "blue economy", for true sustainable development.
He noted that this is important not only to tackle piracy, "but to better prepare ourselves to fight related crimes of drug trafficking, people trafficking, marine pollution and illegal fishing".
President Michel also said that for far too long, many states of this region have reneged on our responsibilities to protect and sustain this ocean.
"We need the help of many other countries and organisations, but we must as sovereign nations, also be prepared to take on this responsibility."
The Head of State however noted that as we tackle the governance of our oceans, there are a number of specific questions that we need to tackle.
"Firstly, the importance of shared surveillance, patrols and exchange of information cannot be over-emphasized. The Indian Ocean is so vast that no single state can ever protect on its own. Many coastal states lack the capacity for large scale and remote surveillance.
"We welcome the efforts of our partners, both bilaterally and multilaterally, who are active in helping to patrol our seas. It is clear that we must also build capacity in the medium term for coastal states to be more active partners in surveillance of their waters."
The President also noted that another pressing concern in dealing with piracy has been the legal means to tackle this crime effectively. The lack of appropriate courts and prisons has meant that too often pirates who have been captured, are then released.
It is also a fact that with thousands of pirates in operation, there is not enough prison capacity in this region to tackle the problem.
To overcome this, Seychelles has recently signed groundbreaking prisoner transfer agreements with Somali authorities, whereby pirates convicted in Victoria can be transferred to Somalia to serve their sentences.
Tackling the financing of piracy is a third very important component of our efforts in this conference, President Michel added.
He said that in all major transnational crime networkss, the key to disabling them is to stop the flow of funds at the source. Most of the funding for piracy originates outside of Somalia; in the same way most of the profits are taken out of Somalia.
He stressed that we must build on the law enforcement networks to fight money laundering and trace the funds that finance terrorism. We must also be prepared to be innovative, and allow regional mechanisms that go beyond national jurisdictions to seize proceeds of crime. It is also clear that ransom payments merely perpetuate the piracy business.
The two-day conference, which closes today, has been organised jointly by the Seychelles government and the South Asia and Africa Regional Port Stability Cooperative (SAARPSCO).
In her introduction, Ms Amanda Hunt of the Ministry of Foreign Affairs noted that our hundred islands represent an economic zone of 1.3 million sq kilometres -- five times the land area of the UK.
The President and chief executive of SAARPSCO, Hans Niebergall, said piracy affects us all in that it reroutes shipping and hikes insurance costs.
Mr Jacques Belle, piracy specialist of the Commission de l'Océan Indien, gave some statistics showing that piracy has since 2008 been spreading everywhere in the Indian Ocean, though Seychelles, because of its proximity to Somalia -- 800 nautical miles -- is more exposed than any other country.
Noting that piracy was affecting tourism, the country's economic pillar, and also fisheries, he said that tourism revenue is down by 10% while export of canned tuna has fallen by 30%.

Last year, seven Seychellois vessels were attacked, though fortunately all our fishermen and sailors were freed after our coastguards, sometimes in joint operations with friendly navies, responded with courage and valour.
Presently, there are 51 convicted pirates at Montagne Posée prison while 11 are awaiting trial.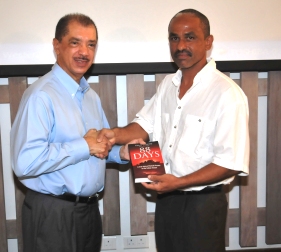 During the opening ceremony yesterday morning, Captain Francis Roucou who, with five other crewmen of the Indian Ocean Explorer was held hostage for several months in Somalia, presented President Michel with a copy of his book narrating the ordeal. The book was to be launched at a reception last night.