Third national culinary competition launched
09-September-2011
The launch took place during a press conference held at the International Sales and Promotion Company (ISPC).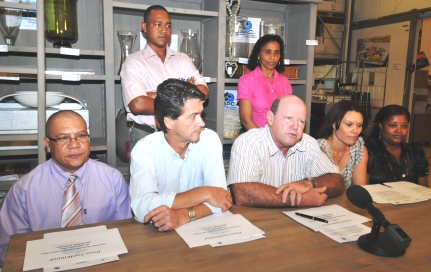 Attending the launch was chief executive of the Seychelles Tourism Board (STB), Alain St Ange and his deputy Elsia Grandcourt, the principal of the Seychelles Tourism Academy (STA), Flavien Joubert, and Alfred Fourcroy, chief executive of the ISPC.
The competition is being organised by the STA and the STB in collaboration with the ISPC, Oceana Fisheries, Mövenpick Ice Cream of Switzerland, Hilton Seychelles Northolme Resort & Spa and Cable & Wireless Seychelles.
"We are committed to inspiring culinary excellence among the Seychellois professionals and preserving the traditions and quality of classic cuisine," said Mr St. Ange at the launch.

He added he believed that Seychelles has many talented chefs, which is why STB has shown continuous support towards the training programme and equipment for STA students.
Mr Joubert said that for the first year of the competition, STA received R145,000.
"With that amount, we bought equipment for the school, which is being used for our courses.

This included the restaurant bar and front office as well as major repairs to the restaurant where our students do their practical, the bathrooms, the kitchen and the bar," he said.
Mr Joubert added that for the second year, STA received R218,000 which they added to some money they had already collected in order to buy a new bus for transporting students.
"For this year, any money we receive will contribute to staff training and empowerment, especially since now we are receiving new students like those from A-Levels. This means we need to modernise our approach to teaching and training," he said.
Mr Joubert also said he is proud of former STA students who have managed to make it as chefs and sous-chefs in the hospitality industry.
The culinary competition is made up of a cold recipe contest, a warm recipe contest and a dessert contest which also coincides with the Creole Festival which will be held in October.

Contestants will undergo the preliminaries from October 4, 5 and 6 and finalists will be given two weeks to prepare for their recipe before the finals on October 25, 26 and 27.
Mr Fourcroy said winners will be able to experience the luxury of other brand hotels overseas as well as win cooking equipment.
The three winning candidates will be required to cook their dishes for their guests at a gala dinner to be held at a date yet to be announced.
For any additional information or questions regarding the official contest's terms, rules and conditions, applicants are asked to send an email to This email address is being protected from spambots. You need JavaScript enabled to view it.