IOIG lottery winners receive their prizes
09-September-2011
The first three winners collecting their prizes: above Ms Pon Waye,below Calvin Marie and Mikael Moll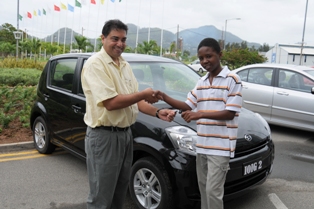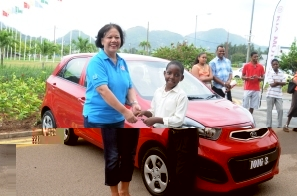 The event was held at the National Sports Council (NSC), Roche Caïman and was attended by the principal secretary for Youth and Sports, Denis Rose, and NSC representative Giovanna Rousseau.
Mr Rose thanked all the lottery's sponsors as well as the public who bought the tickets in support.
"I believe you all contributed immensely to the success of the Games," he said.
Mr Rose said he hoped contributions would continue in the future so that sports in Seychelles will be able to grow, improve and develop.
Ms Rousseau said they were able to raise R1.2 million in total and is very happy with the way events turned out, despite the hiccup which occurred when four ticket booklets were stolen earlier last month.
The star prize of the lottery, a Honda City sponsored by the Marine Charter Association, has been won by Helen Pon Waye of Anse Etoile.
Calvin Marie from Pointe Larue won a Daihatsu Sirion DX/M as second prize, sponsored by Abhaye Valabhji Pty Ltd, whereas Mikael Moll from Glacis won a Kia Picanto sponsored by Excel Motors as third prize.
Besides the three cars as main prizes, there were 11 other prizes such as air tickets to various destinations, weekends for two at various hotels, electronic items like television sets, among others.