New secure prison block opens
10-September-2011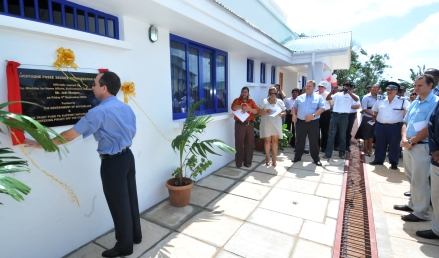 It cost R6 million and was funded by the Government of Seychelles and the United Nations Office on Drugs and Crime (UNODC).
There are 53 convicted and 11 suspected Somali pirates at the Montagne Posée Prison who are expected to move into the new facility soon, but who are expected to make room for other "hardened" local prisoners once those convicted are repatriated to complete their terms back home.
The new block has more space which Mr Morgan said will help cut stress, which increases aggressiveness among prisoners.
It also has better facilities where visitors will speak to prisoners through intercom, reducing the risk of illegal items being smuggled to inmates.
Yesterday's ceremony was attended by Foreign Affairs Minister Jean-Paul Adam, members of the diplomatic corps including British High Commissioner Matthew Forbes, who represented the European Union, ombudsman Dora Zatte and UNDC officials as well as delegates who were here for the global conference on piracy.
Bishop Denis Wiehe of the Roman Catholic Church and Bishop James Wong of the Anglican Church prayed for the new facility, its workers and prisoners.
Prisons superintendent Maxime Tirant said the block is much more secure than the main one, and as comfortable as it should be by international standards.
Mr Morgan said since it is divided into sections, it is possible to lock out parts affected by disturbances, preventing them from spreading to all its sections as has happened in the main prison, which he said will also be divided for easier management where prisoners will find it harder to come together.
He said more gurkhas have been brought in to guard the prison and since their arrival some time back no prisoner has escaped.
UNODC's counter piracy programme coordinator Alan Cole said he has spoken with the Somali pirates at Montagne Posée who told him they are reasonably comfortable "and even like the food, which is rare in prisons, but would nevertheless like to continue their sentences in Somalia".
Mr Morgan said we cannot be oblivious to the size and complexity of the challenges we still have to surmount for us to eradicate the threat of piracy, "which has given a new face and amplitude to international crime".
"Pirates cannot be allowed to roam the seas unchallenged. As indicated by President James Michel during the official opening of the conference on piracy this week, we need to claim back our seas," he said.
"So far, the pirates have managed to hold hostage our loved ones, disrupt global commerce by seriously affecting shipping in one of the busiest maritime passages in the world and make our tourists and fishermen fear the sea.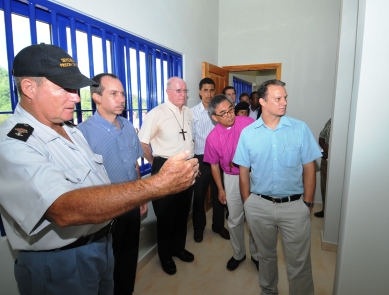 "Seychelles has been for the last three years, right in the centre of the pirates' hunting grounds. But despite the enormous challenges we have faced due to this scourge, we have stood firm to protect our people and our sovereignty; something which would have not been possible without the help and support of our international partners.
"This prison block has been built with the support of one of our most reliable and valued partners, the UNODC which has been assisting us with our ongoing Prison Reform Programme among other things," he said.
Mr Morgan also thanked the Netherlands and Germany, who have given the "consistent financial and international political support needed to ensure that this project materialises".
"This new prison facility is also an important symbol of the joint commitment between the Government of Seychelles and partners from the European Union to strengthen the criminal justice system in Seychelles.
"Although this project has been financed in the context of the fight against piracy, it will also be used to house local prisoners deemed unsuitable for the main block. So what we have done here is more than just upgrade a prison facility to house pirates. This new facility at Montagne Posée is a strong symbol of the rule of law in our country, which is fundamental to the economic and social development of Seychelles as well as to its democratic system of government," he said.