STA's new wellness and spa centre launched
10-September-2011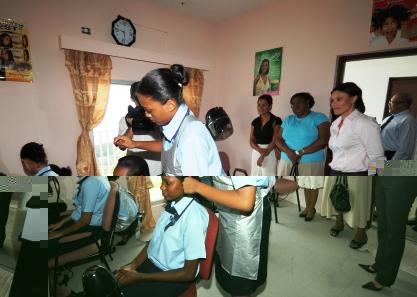 Guests watch as students show off their skills gained in the wellness and spa course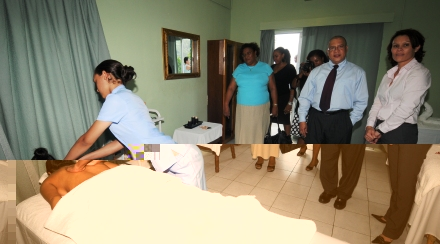 The ceremony took place at the academy at La Misère yesterday in the presence of Seychelles Tourism Board (STB) deputy chief executive Elsia Grandcourt, STA principal Flavien Joubert, representatives of the STB, lecturers and students of the STA.
Addressing those present, Mrs Grandcourt said the wellness and spa course was a recommendation by the department of employment and trade partners in 2008.
Its aim is to provide Seychellois with a chance to pursue careers in wellness and spa in hotels, an area presently dominated by expatriates – at 98% – coming mainly from Asia.
"With tourism being the main pillar of our economy, it is vital for the health and sustainability of the industry that we are able to train as many Seychellois as possible for careers in tourism and tourism-related fields," she said.
The centre is equipped with its own massage room, hairdressing salon, manicure and pedicure room and a gym toning room.
The total cost of equipment for the centre is R600,000 and the project was funded through money raised during private events held at the academy and contributions from trade partners.
Wellness and spa course leader Fadette Julienne said the centre uses mainly products from France and those made locally.
There is a hairdresser working part-time in the hairdressing salon training the students twice a week, a gym trainer who trains second year students and other treatments are done by Mrs Julienne and another lecturer, Christina Micock.