Another success for STB in South Korea
10-September-2011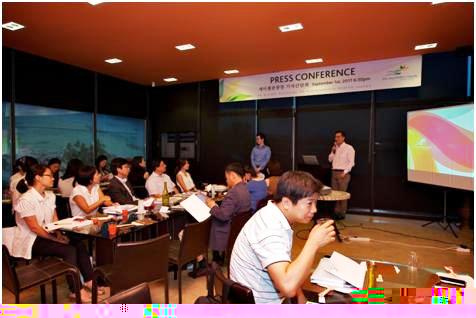 Representing the tourism board was the Seychelles Tourist Office regional manager in Seoul, South Korea, Dong Chang Jeong, who is also the Seychelles honorary consul there.
The unprecedented conference took place at a Yacht Club located at Han River, which flows through the centre of Seoul city.
The press conference was attended by some 50 journalists from Korea's major daily newspapers, and high-end monthly magazines, as well as specialised travel newspaper and magazines.
The conference was held with the aim of analysing and generating more awareness and attention for Seychelles so as to increase visitors from this part of Asia, as well as attract Korean investors to Seychelles.
South Korea, which has a population of 48 million and is one of the G20 nations, is growing rapidly and is one of the promising emerging markets for Seychelles. The South Korean market can substantially contribute to the islands' tourism industry in terms of benefits and growth.
To this market, Seychelles is highly positioned as a luxurious destination, blessed with the world's best natural beauty and excellent infrastructure.
Mr Jeong said he was highly satisfied with the event, where Seychelles has left guests with a lasting impression.
"We organised the press conference at a Yacht Club surrounded by yachts as it is ideal to what Seychelles has to offer," he said.
The programme of the event included a presentation by Seychelles Tourism Office marketing manager in Seoul, Julie Kim, on the unique Seychelles tourism environment and attractions, followed by a dinner banquet on the terrace overlooking the night view, along with lively Creole music.
Journalists present also had the opportunity to enjoy sailing on two different kinds of yacht – a catamaran and a power boat.
STB officials will be going to South Korea next month, where they will be part of the 19th session of the UNWTO General Assembly that will be held from October8-14.