Football: Barclays league division one-St Michel sweep aside St Roch, The Lions bite St Louis Suns
12-September-2011
On La Digue, Anse Reunion defeated St Francis 3-0 and on Friday The Lions stunned St Louis Suns to move off the bottom of the table.
St Michel v St Roch
St Michel took time to open the score in this match which they dominated from the start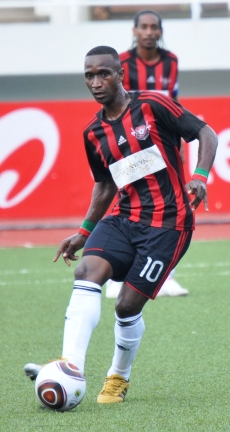 and it was only in the 23rd minute that they opened the floodgates as Gervais Waye-Hive picked out Leeroy Corallie who fired past goalie Terence Lesperance, who was still deputising for the injured Eugene Valentin (1-0).
Two minutes later, Alex Nibourette went close with a well-struck free-kick as St Michel pushed hard to increase the score.
In the 35th minute, St Roch rode their luck as Don Anacoura rose high to head Waye-Hive's corner but his goal-bound header was cleared on the goal-line.
Five minutes later though Anacoura was not to be denied his moment of glory as Waye-Hive centred to Wilnes Brutus who unselfishly laid the ball to him and he slotted it home (2-0).
Four minutes later at the other end, Klaus Pragassen should have reduced the arrears as he latched on to Malagasy Nestor Benahovy's long ball, but with only goalie Gino Melanie to beat he shot weakly and straight into the gloves of a grateful custodian.
St Michel went further ahead two minutes into the second half as Nibourette let fly a fierce shot which flew past Lesperance (3-0).
In the 51st minute, Corallie did brilliantly to elude a couple of defenders before linking up with Brutus who cleverly allowed the ball to roll between his legs to Anacoura who looked odds on to score but he was too casual and his soft shot was saved.
St Michel again went forward a minute later and Nibourette's teasing cross was deflected by St Roch defender Daven Belle onto the post before the danger was cleared.
St Roch though cut the deficit in the 61st minute from Malagasy Benahovy's swerving free-kick which flew past goalie Melanie (3-1).
St Michel restored their three-goal lead 11 minutes later as Brutus released substitute Andy Mougal who beat the St Roch offside trap to shoot beyond Lesperance's reach (4-1).
In the 75th minute, Brutus stole the ball from a defender to race clear before squaring it to Anacoura who rammed it into the net (5-1).
Brutus was just unlucky not to cap a wonderful afternoon with a goal which his effort deserved. In the 83rd minute Malagasy Jimmy Radafison broke forward to release Brutus who created space and rifled a strong shot which came off the cross bar.
St Michel though completed the rout in the 87th minute as Allen Laure galloped forward to centre to Brutus who went round Lesperance before crossing to Mougal who looked suspiciously offside as he headed the ball over the goal-line at close range for a 6-1 victory.
LightStars v La Passe
Praslin side LightStars will be frustrated that they did not win this encounter as they went 2-0 ahead in the first half with goals from Kevin Prosper and Renick Esther with a free-kick.
However, Malagasy Valerie reduced the scoreline early in the second half before Marcus Labiche headed a second for a 2-2 score.
There was to be more drama in the dying minutes as La Passe's Malagasy Tholix Jean brought down LightStars' Mario Ravo for a penalty. Andrew Jean took the spot kick but goalkeeper Vincent Euphrasie, who was Seychelles' hero in the final of the Indian Ocean Island Games when he stopped two penalties, reproduced his heroics to deny LightStars a win and save his team from defeat.
Anse Reunion v St Francis
Anse Reunion bounced back from an embarrassing defeat in the Land Marine Cup to second division side St John Bosco to earn a comfortable 3-0 home win over St Francis.
Norvil Gaspard set them on the road to victory with a strike in the first half before Malagasy Jean Estel Baransuice added a second before half-time.
Malagasy Jean-Del'Or Tsaralaza sealed the points with a goal in the second half to give the La Digue side a much-needed morale-boosting triumph.
The Lions v St Louis Suns
On Friday, The Lions condemned St Louis Suns to bottom place in the standings as they leapfrogged their rivals with hard fought 2-1 win.
The Lions shocked St Louis Suns with a goal in the opening minute (51 seconds) as Darren Payet picked up Randolph Lablache's pass to hold on to a defender and beat goalie Elvis Leopold at the near post for a stunning opener to make it 1-0.
St Louis Suns though responded in the fifth minute as captain Trevor Poiret found Marlon Asba with a free-kick but the young defender's header came off the crossbar.
Three minutes later, Yannick Charlette set up Elijah Tamboo but goalie Jerome Dingwall saved his shot.
St Louis Suns continued to press for an equaliser and in the 35th minute, captain Poiret floated a corner which was met by Tamboo's header but the danger was cleared on the goal-line.
The Lions, who had been under pressure, had a half-chance in the 40th minute as Darrel Lesperance set up Jude Nancy whose long range effort sailed over the crossbar.
The Lions again shocked St Louis Suns in the 55th minute as Darrel Lesperance linked up with Lablache who twisted and turned before unleashing a 30m shot which crashed into the net past a hapless Leopold for a 2-0 lead.
St Louis Suns had no choice but to throw caution to the win in an attempt to salvage this match.
In the 59th minute, Charlette missed a great chance to reduce the arrears as his near post shot was stopped by an in form goalie Dingwall.
St Louis Suns worked hard to find an opening but captain Poiret wasted a decent chance in the 77th minute as he failed to beat Dingwall.
Ten minutes later, Kelly Nibourette also looked odds on to cut the deficit but his shot ricocheted off the crossbar as The Lions rode their luck.
St Louis Suns managed to reduce the score in the 87th minute from Denis Barbé's free-kick which flew past Dingwall for a 2-1 scoreline.
However, it was too little too late for St Louis Suns as The Lions celebrated a rare victory.
St Louis Suns' coach Marc Mathiot told Sports Nation his team deserved better in this match as they had created enough chances to win.
Coach Mathiot also complained of injury which has depleted his squad.
R. J-L.