10th All-Africa Games in Maputo, Mozambique – September 3-18-Seychelles' flag rises in Maputo
13-September-2011
It was during a gathering on Sunday night at the famous Clube Maritimo Desports that sailors Allan Julie and Rodney Govinden were presented with their gold and bronze medals after finishing first and third in the Laser standard category.
Julie won the gold after totally dominating his opponents, winning eight out nine races in the series. South Africa's Rudy Mc Neil was second, while Seychellois Rodney Govinden finished third for the bronze medal.
Meanwhile, in the Laser radial category, Meggy Gertrude and Roy Govinden narrowly missed out on the bronze medals after taking fourth places overall in their respective categories.
In the ladies' group, Gertrude even made a written protest against two Algerians whom she said did team sailing to prevent her from finishing third. Her protest was rejected by the jury due to a lack of evidence.
Seychelles' other sailors – Beth Gertrude and Hansel Esther – finished sixth and eighth overall in their respective categories in Maputo.
What they said:
Gold medallist Allan Julie: "The gold medal means a lot to me. It has been quite a while since I have been working towards achieving this gold medal and I am very happy I am now Africa's number one sailor in the Laser standard category. This is the fruit of the hard work I have been putting in in training for over 15 years. My next target is the Olympics Games in London in 2012."
Bronze medallist Rodney Govinden: "Winning the bronze medal is a big achievement for me as it is my first appearance in the All-Africa Games. I am very happy."
Seychelles Yachting Association chairman Alain Alcindor: "The medals won represent the hard work of the sailors and also the good backing of the local association. At the beginning of the races, the wind condition was perfect and we were targeting more than the two medals won. But as the competition progressed, the weather condition changed and this affected our performance. We hope the result will encourage more support for the sport which always brings Seychelles good results."
Overall performances of Seychellois sailors at the Games: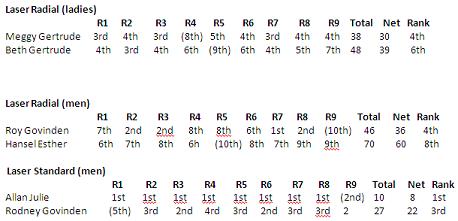 . Texts from our journalist in Maputo, Roland Duval
. Photos by Joena Bonnelame in Maputo