Link with UK prison planned
13-September-2011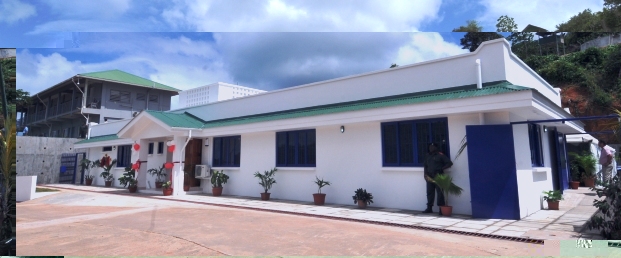 Home Affairs, Environment and Transport Minister Joel Morgan announced this on Friday when he opened a modern R6 million prison block at Montagne Posée.
The link will be possible through a programme of the United Nations Office on Drugs and Crime (UNODC) which funded the new block together with the Seychelles Government.
"We are working with the UNODC to renovate the main part of the prison, to provide additional training opportunities for prisoners and to train the staff through a twinning programme with a prison in the UK," said Mr Morgan.
He said the government has employed a highly skilled and experienced deputy superintendent of prisons – Will Thurbin – who will help ensure Montagne Posée and Coetivy prisons are run in a safe and efficient way.
He commended the efforts being made by the international community to fight piracy, but stressed the need to find the root causes of the problem.
"Almost 20 years of conflict in Somalia have had a significant impact at sea. With the longest coastline in Africa, a large number of small ports, fishing villages and inlets, it is very clear that military means alone are not likely to end piracy."
He said the problem will end only if any effort to address the multiple challenges of piracy seeks to build and strengthen national institutions in fighting piracy within Somalia, builds capacity in Somalia's domestic legal system and law enforcement institutions, so that Somalia remains the epicenter of long-term strategies to effectively deal with the problem.
"With a stable and prosperous Somalia, piracy off the coast of Somalia will be overcome. We should, therefore, do all that we can to assist Somalia to obtain the peace and stability that its people so well deserve," he said.
He commended the work done by our criminal justice system which he said is very challenging, "especially when we have to fight crimes like piracy and drugs which are often difficult cases to deal with evidentially".
"It requires a high level of commitment and professionalism. Our police force, the attorney general's office and the courts all have done a tremendous job in this respect," he said.
"In the same line, I would also like to commend the excellent work carried out by our defence forces and in particular our coast guards and the special forces in their work to safeguard our seas from acts of piracy."
Mr Morgan noted prison staff's working conditions are not easy, and commended them for their determination and motivation.
"I am aware of the need for more manpower, especially the need to attract dedicated and able staff to supplement your numbers as prison officers. We have brought in more Ghurkas to further strengthen our overall security and now our efforts must go towards more human resources for instilling a better regime inside the prison.
He said the government has invested significantly this year to improve infrastructures at the prison.
"This new secure facility will set the standard for the renovations that we will progressively be making in the main block, all with the aim of providing you and the prisoners with a safe and secure environment which meets the required standard."
Among those at the ceremony were Social Development and Culture Minister Bernard Shamlaye, Foreign Affairs Minister Jean-Paul Adam, British High Commissioner Matthew Forbes and UNDC officials as well as delegates who were here for a global conference on piracy.