UniSey to offer degree in environment science
14-September-2011
The signing took place on Monday at the UniSey's campus at Anse Royale in the presence of Minister for Investment, Natural Resources and Industry Peter Sinon, acting chief executive of the Seychelles Fishing Authority (SFA) Finley Racombo and its chairman Veronique Herminie, and principal secretary for investment and natural resources Michael Nalletamby.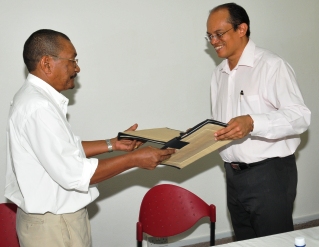 Others included chief executive of the National Human Resources Development Council Christian Cafrine and representatives from the university and SFA.
The first memorandum of understanding, amounting to €40,000, was signed between Mr Racombo and vice-chancellor and president of UniSey Dr Rolph Payet.
Dr Payet signed the second accord, amounting to US $38,000, with the United Nations Development Programme-Global Environment Facility (UNDP-GEF) which was represented by environment principal secretary Didier Dogley.
Addressing those at the event, Mr Racombo said there is hope that the shortage of qualified Seychellois scientists in marine science will become a problem of the past in a few years' time when the first students obtain their degrees.
He added that SFA aims to strengthen the enabling conditions that are needed to retain Seychellois scientists and to promote further development in collaboration with UniSey.
Dr Payet said UniSey plans to offer the course with the students from School of Advanced Level Studies, Seychelles Tourism Academy and Maritime Training Centre.
He added that the first accord will help the university in developing the marine aspect in the degree programme as UniSey will not only target those working in the field of conservation but also marine related fields, fisheries, tourism, planning, education -- all related to the environment.
Dr Payet said there are different modules which will be developed based on the funds the UniSey is receiving.
The university will finance the modules which will not be receiving funds.
The degree programme will be for a period of three to four years and the formal teaching will start in February 2012.
The second agreement signed between the Department of Environment and UNDP-GEF will be to fund the sustainable development aspect, a specific course module which will be in the degree programme.
Individuals from the environment or foreign affairs departments or other areas dealing with international relations relating to the environment can follow this course as part of the degree programme.
Dr Payet said the university will announced at a later date during the year when separate modules will start.
He is calling on students who wish to join the degree programme to apply and other organisations which will like to help the university in developing its programme to come forward.