Air Seychelles to fly in artists for the 26th Creole Festival
15-September-2011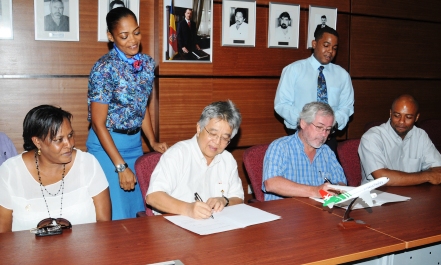 The national airline will be sponsoring 10 international and regional tickets valued at R200,000, which will be used to fly in artists from other Creole-speaking countries who will be taking part in the festival.
The sponsorship agreement was signed by Air Seychelles executive chairman Maurice Loustau-Lalanne and the Minister for Social Development and Culture Bernard Shamlaye at the airline's head office, Seychelles International Airport on Tuesday.
Also attending the ceremony were principal secretary for culture Raymonde Onezime, Air Seychelles deputy chief executive Garry Albert, and staff of the airline and the department of culture.
Air Seychelles has always been a keen supporter of the Creole Festival which was launched 26 years ago as an annual cultural manifestation to promote the culture and identity of our Creole nation.
Mr Loustau-Lalanne said Air Seychelles is facing certain difficulties, but as it has always been a supporter of the October event, the airline will again this year renew its support towards the festival.
He added that Air Seychelles is proud for its contribution towards tourism in the country and that this year's theme for Tourism Week which is Tourism-Linking Cultures, is another inspiration for the airline to sponsor the event.
Mr Loustau-Lalanne wished the Creole Festival organising committee headed by Mr Shamlaye success for the upcoming festival and said Air Seychelles will always support the event.
Speaking after the signing, Mr Shamlaye thanked the airline for renewing its support for this year's festival and said the committee is looking forward for further partnership in the future with Air Seychelles.
In a press release, Mr Loustau-Lalanne said Air Seychelles has always believed in the Creole heritage and this is clearly seen by incorporating the Creole identity onboard all its in-flight products and services.
"Our slogan – Flying the Creole spirit also contributes towards the enhancement of our Creole heritage," he said.
He added that in sponsoring the tickets, Air Seychelles hopes to be able to share the fun and culture of the wonderful world of the Creoles with other artists from around the world.