Football: Land Marine Cup-Dynamo dump Cup holders St Louis Suns
15-September-2011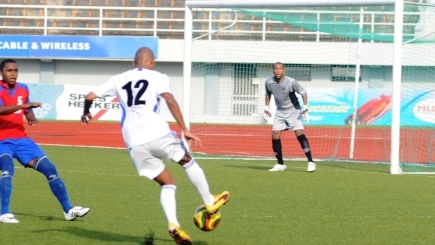 This fourth round all-first division clash was always going to be a test of character for defending Cup champions St Louis Suns who are really struggling this season and they did not pass the challenge with another loss.
This defeat will further dampen the morale in their camp after they dropped to the bottom of the Barclays league division one standing last Friday.
Surprisingly St Louis Suns were almost back to full strength except for Jonathan Bibi who was out injured. The boys of coach Marc Mathiot started brightly as they dominated possession and kept Dynamo on the defensive in a physical battle up to the last whistle.
Their good approach play should have resulted in a goal in the 22nd minute when Roddy Melanie was brought down by a Dynamo player and referee Emile Fred pointed to the penalty spot.
However, Brian Dorby's weak shot was pushed out by goalkeeper Jules Monnaie as Dynamo rode their luck.
In the 43rd minute, St Louis Suns displayed a great passing move involving Denis Barbé and Yannick Charlette to release captain Trevor Poiret. But Dynamo's Steve Henriette produced a last-ditched tackle to deny St Louis Suns a breakthrough.
Dynamo improved in the second half as they reshuffled their pack and in the 47th minute captain Ronny Marengo lofted a cross to Malagasy Asman Todisoa whose back header rolled agonisingly wide.
Three minutes later, Dynamo's Basil Bertin picked out Marcus Maria with a long pass but the diminutive striker could not direct his shot on target.
St Louis Suns responded in the 53rd minute as captain Poiret's curling free-kick flew inches wide of Monnaie's far post.
Dynamo should have broken the deadlock in the 69th minute from Francis Moumou's teasing cross to Todisoa after he pounced on Nadim Lucas' mistake. The Malagasy striker though failed to connect with the goal at his mercy much to St Louis Suns' relief.
Moumou was again in the thick of action in the 87th minute as he almost wrong-footed goalie Joel Lesperance with a swerving free-kick which crashed in the side-netting.
A minute later, Todisoa should have sealed St Louis Suns' fate from a superb cross by Maria after he had skipped past Jean-Paul Aglaé. Amazingly Todisoa miscued in front of a gaping goal as St Louis Suns' fans breathed a big sigh of relief.
Dynamo were almost punished two minutes into added time when Aglaé bore forward and let fly a raking low shot which brought a brilliant save out of Monnaie to save his team from the sucker punch.
The match had to move into extra-time where both teams played with caution as they tried to hit each other with a killer goal.
St Louis Suns came close in the first period of extra time (105th minute) with substitute Kelly Nibourette latching on to Mervin Mathiot's filtered pass after he had robbed captain Marengo of the ball.
Nibourette raced into the penalty area but instead of laying the ball to captain Poiret, he went for glory but could only flash his shot across goal.
The two teams entered the second period of extra time still at a stalemate but Dynamo's Henriette went mighty close to win the match in the 118th minute from Maria's corner which was half-cleared to him on the penalty edge. Henriette's bolstering drive was just deflected over the cross bar to send the match into a penalty shootout.
Henriette set the tone for Dynamo as he rammed the ball past Lesperance for 1-0 lead.
Eddie Bistoé levelled the score for St Louis Suns before Maria scored for Dynamo. Captain Poiret equalised for St Louis Suns at 2-2 and Todisoa drilled the ball to Lesperance's right hand side as his colleagues had done and he was successful (3-2). Sadly for St Louis Suns, Barbé was too casual in his approach and his soft penalty was saved by Monnaie.
Moumou kept the pressure on St Louis Suns as he scored to make it 4-2. Brian Dorby though made amends for his earlier miss to cut the deficit to 4-3.
It was left to Valerio Dorothé to sink St Louis Suns as he scored for a final 5-3 scoreline to send St Louis Suns crashing out of the cup and his team to wild celebrations as they progressed to the quarterfinals.
Dynamo coach Cliff Nolin was pleased with the result and told Sports Nation it was a tough and balanced match but his team had held their nerve when it mattered to triumph.
R. J-L.