Schools get tools ahead of clean-up campaign
16-September-2011
The hand-over of the donation -- which included spades and rakes to name a few – took place In a small ceremony yesterday at the Botanical Gardens.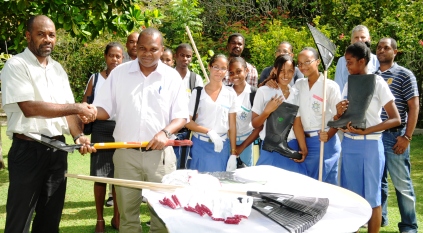 It is the result of a project carried out by the Ministry of Education together with the United Nations Development Programme (UNDP), Global Environment Facility (GEF) and local schools.
Attending the hand-over yesterday were Environment principal secretary Didier Dogley and Shane Emilie, coordinator for environment education.
Mr Dogley said he hopes the tools would be put to good use during the clean-up campaign.

"This donation has come at an opportune moment and I'm sure that after the week of activities, teachers, school children and everybody involved will ensure proper use and care of the equipment," he added.
Mr Emilie said the project itself came about through meetings with the Landscape and Risk Management, where it was proposed that the schools should obtain help in terms of material and tools to help maintain and clean up their compounds.
He added that the project is also to encourage students, teachers and even community partners – like parents – to help the school to maintain the environment in and around it.
He noted that this would make it more conducive to learning as well as a place where children would enjoy being in.
Mr Emilie said schools will be given materials according to regions with Anse Royale, La Digue and Praslin being among the first.
"In the future, we plan to concentrate on other schools from different districts," he said.