Biodiversity Centre holds half of country's endemic plants
16-September-2011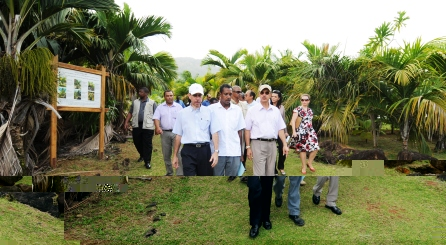 The 50-acre garden was, the President recalled, established in the late 1990s when he held the Environment portfolio, with Maurice Loustau-Lalanne as his principal secretary.
Its roles include the propagation of endemic plant species rare in the world and providing seeds and cuttings as plant material.
Such species include 'bwadnat', which early settlers felled extensively, until few trees remain. They also include 'bwa sitron', 'bwa rouz' and 'bilenbi maron'.
The President spoke to some workers and announced that a new authority has been set up to further develop the biodiversity centre. This is headed by Raymond Brioche, who is also responsible for managing the State House Gardens.
One area has been developed into a palm garden.
President Michel said the centre has the potential to make a valuable contribution in tourism as well as being a good example of environmental protection.
The possibility of the centre being able to generate its own funds, later on, maybe as an entrance charge on tourists, was also raised.
The centre has since some time developed its own nursery, offering rare plants for sale to the more discerning gardeners and remains open until 2.30pm for this purpose.